Angela Davis, Janet Mock and America Ferrera are headline speakers for the Women's March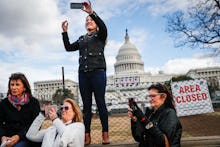 The Women's March on Washington is shaping up to be one of the biggest mass mobilizations in United States history, and it's got a speakers' lineup to match its lofty expectations.
Longtime activists Angela Davis and Gloria Steinem are scheduled to speak, along with younger activists like Janet Mock, Ai-jen Poo and Melissa Harris-Perry. Actresses America Ferrera and Scarlett Johansson are also slated to speak. 
Here's the full list of speakers from New York Magazine:
Cecile Richards, president, Planned Parenthood Federation of America
Erika Andiola, activist
Ilyasah Shabazz, activist
J. Bob Alotta, activist and filmmaker
Janet Mock, activist, writer, and television host
LaDonna Harris, activist
Maryum Ali, activist
Melanie Campbell, activist
Rabbi Sharon Brous
Rhea Suh, activist
Sister Simone Campbell, attorney
Sophie Cruz, activist
Zahra Billoo, activist
America Ferrera, actress
Angela Davis, activist, scholar, author
Gloria Steinem, activist
Ashley Judd, actress and activist
Scarlett Johansson, actress
Melissa Harris-Perry, television host and professor
Michael Moore, filmmaker
Amanda Nguyen, activist
Randi Weingarten, attorney
Van Jones, television host
George Gresham, activist
Mothers of the Movement (Sybrina Fulton, Lucia McBath, Maria Hamilton, Gwen Carr), activists
Hina Naveed, activist
Judith LaBlanc, psychologist and researcher
Kristin Rowe-Finkbeiner, author and activist
Aida Hurtado, psychologist
Melissa Mays, activist
Raquel Willis, activist and writer
Roslyn Brock, activist
Sister Ieasha Prime, activist
Muriel Bowser, mayor of Washington, D.C.
Ai-jen Poo, activist
Wendy Carrillo, activist
Cynthia Hale, pastor