NFL great Jerry Rice traded in his football helmet for a Popeyes chicken face mask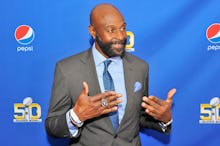 Since leaving his Hall of Fame football career behind in the mid-2000s, former San Francisco 49ers wide receiver Jerry Rice has made plenty of questionable decisions. 
One was publicly criticizing Colin Kaepernick's national anthem protest by saying — and then retracting — that "all lives matter." But by far his most head-scratching moment came this week when he decided to wear a Popeyes chicken football helmet with a fried-chicken face mask, inviting every tired racist trope his way.
Rice stars in a recent commercial for Popeyes that touts imaginary "Wingovations"; the ad basically gushes about how delicious Popeyes' cajun wings are to eat while watching your favorite plays on Sundays.
Needless to say, the spot isn't going over well:
After making a career out of catching passes, Rice is now a pro at catching flak for how out of step he seems to be when it comes to race.