Trump Inauguration 2017: 8 protest signs that will actually give you life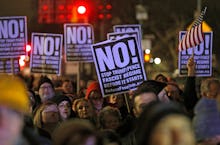 Donald Trump will be inaugurated as the 45th president of the United States of America.
That's a really depressing sentence. But you know what's not as bad? The humor that protesters are bringing to his inauguration with their brilliant signs. 
There are the brujas:
And the movie buffs:
And, of course, the feminists: