Will the Women's March finally unite the left?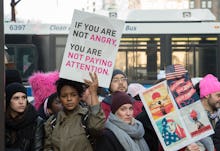 NEW YORK — As the Democratic Party looks for ways to rebuild after a devastating defeat at the tiny hands of Donald Trump, it needn't look any further than Trump's hometown.
The day after the 45th president's inauguration, an estimated 200,000 of his critics met on the streets of New York City a few blocks east of Trump World Tower in Midtown Manhattan. The demonstration — one of dozens of loosely coordinated satellite protests of the Women's March in Washington, D.C. — was a festive counterpoint to the somber mood that gripped many parts of the country the day before. Crowds of protesters, most women (but not all) held homemade signs, chanted anti-Trump slogans and listened as actress Rosie Perez emceed the beginning of a parade of speakers, including the city's own first lady, Chirlane McCray.
But the demonstrations in New York hold special significance. The city is not only Trump's home, it is also among the places he has the least support — 79% of city residents voted for Hillary Clinton. Given the depth of anti-Trump sentiment here and the throngs of women young and old who showed up to express their opposition to attacks on women's rights, it's an important litmus test for what resistance could look like under a Trump administration.
Whether the strong showing at Saturday's march can build into something more enduring depends on whether the communities under threat by Trump can recognize it as a movement, not a moment. It will also depend on the degree to which communities impacted by Trump can organize in an inclusive, collaborative way.
Young women are a key constituency of the Trump resistance, and they were out in force Saturday. Half of young people between the ages of 18 and 29 —roughly 24 million — cast ballots in the 2016 presidential election, according to the Center for Information and Research on Civic Learning and Engagement. Of those voters, 55% voted for Clinton compared with 37% for Trump.
Bella and Sarah Chamber, sisters in their early 20s who live in Brooklyn, attended the march to "show the rest of the world that not everybody is happy with what's happening right now."
"In fact, most of us are not happy," Sarah Chamber said, noting Trump's history of disparaging remarks against women.
But while not all of the marchers were white women, most were, highlighting the concerns about diversity and inclusion that had plagued the march since its inception, and led many to skip the day altogether.
"The idea that it's a march that's supposed to represent women when so many white women voted for Trump — there seems to be a lack of cohesion," said Larisa Mann, a professor at Temple University who lives in New York City and did not attend Saturday's march. "I worry because there are so many ways in which white women gravitate to and are welcomed into positions of power and they don't end up paying attention to issues of women who aren't white and aren't middle class."
When women of color urged march organizers to also think about the diverse women — Muslim, immigrant, transgender, sex workers — they were accused of being divisive. Heather Wilhelm wrote in the Chicago Tribune that the march had become an "intersectional torture chamber." But for people who live at those intersections — people of color, trans people, immigrants, people with disabilities — that proved that the march was not for everyone.
Jamilah Lemieux, a black writer and vice president of men's programming at News One, wrote an op-ed in Colorlines about why she decided not to attend any women's marches. She pointed to the 53% of white female voters who voted for Trump as proof that white women voters need to better align their political futures with people of color.
"Why did it happen?" Lemieux asked of Trump's election. "There was lots of weeping and wailing from women who could get the answers to those questions by simply asking their relatives, friends and partners who put Trump in power."
In response to the criticism, women of color like Carmen Perez, Linda Sarsour and Tamika Mallory stepped into leadership roles for the Women's March on Washington. But those additions were made after the fact, and were not representative of organizing in several other cities.
Despite its shortcomings, the marches in New York and across the country show momentum is building for a broad-based movement to fight back against Trump's agenda. To harness its power, it's important to remember that the struggle isn't new, and to learn from the marginalized communities who have led the charge in their own struggles for equality.