The Academy didn't fix #OscarsSoWhite. But 2017's Oscar nods are still worth celebrating.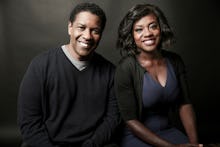 Good on you, Academy of Motion Picture Arts and Sciences! After two years of assembling acting lineups whiter than printer paper, you put together a remarkably diverse list of nominees that matches the all-time record for most racially diverse Oscar lineups. Not only are there tons of nonwhite actors nominated, even the non-acting categories are more representative of people of color.
Make no mistake: This is a feat. This is a recognition of tremendous work done by actors and creators of color from an organization that has, for two years now, ignored their contributions to the world of film.
But don't even think about declaring #OscarsSoWhite over. To do that would be to misunderstand what #OscarsSoWhite even is, or why writer April Reign created it in the first place.
Academy voters didn't conspire together the last two years to come up with a plan to avoid nominating any nonwhite actors. Similarly, they almost certainly didn't meet to decide to nominate seven actors of color this year, although Academy president Cheryl Boone Isaacs did implement several changes to how the organization admits members. (That said, those changes are more long-term and likely had minimal effect this year.)
This year was different for two reasons: There were more Oscar-friendly movies featuring performers of color, and Oscar voters and members of the entertainment media thought differently about what kind of movies are Oscar movies.
Fences and Hidden Figures are both Oscar bait in their own way. The former is an adaptation of a beloved, Tony-winning play by August Wilson with the year's best performance at its center. The latter is a box office smash with tons of heart. If those two movies came out last year, they might have been nominated. Fences' release was a gift of timing; Hidden Figures, on the other hand, felt like a direct response to #OscarsSoWhite.
Moonlight feels more like a marvel. That a deep meditation on black masculinity, one that hinges on its protagonist's discovery of his sexuality, earned eight Oscar nominations is huge. It's a testament to a smart, assertive For Your Consideration campaign by distributor A24, but also to voters and Oscar watchers for keeping it in mind and in conversation. A small movie needs all the exposure it can get.
Vitally, the nomination counts for Moonlight, Fences and Hidden Figures, as well as adoption drama Lion, should send a clear signal that movies about and by nonwhite people are worth developing and promoting for awards attention. That's how the trend changes.
Mahershala Ali, Moonlight's supporting actor nominee, echoed the need for long-term thinking when Entertainment Weekly asked him about #OscarsSoWhite:
When we talk about inclusion, that proper balance is something that is gonna take many years to find. We're gonna continue to struggle to find what that balance can be, and so that's ongoing work. ... This year has been really positive for people of color in terms of films and representation, but you know, we have a ways to go. It's been the way it's been for a very long time so for there to be expectations that everything's changed in a year is unrealistic.
Reign herself struck a similar tone on Twitter about the nominations after one news outlet declared #OscarsSoWhite over. The campaign is not about simply coming up with one diverse slate of nominees. There have been decades of Hollywood failing to represent people of color. 2018's lineup could very easily be exclusive and unrepresentative. The key is in changing how the industry — and how those that watch the industry — think and work.
This year's nominees are absolutely worth celebrating, both on a macro scale — it's great to see so many performers of color recognized — and a micro — these performances are each fantastic and worthy of the praise. Progress requires both excitement about the present and ambition for the future. That's why deeming #OscarsSoWhite over is such a mistake: It's not about fixing things now. It's about changing things for good.