5 free ways to get in shape: Lose weight, build muscle or get heart healthy without going broke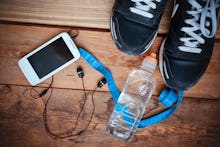 Resolving to exercise — and actually sticking to it — might seem like a journey to the land of pain, but it's worth the effort: People who work out tend to be happier and less stressed.
In fact, research suggests just 15 minutes of exercise a day might increase your lifespan by 3 years.
Sounds great, right?
There's just one problem: The cost of gym memberships.
Americans spent roughly $30.3 billion on gym and health-related facilities in 2016 — with the average gym membership falling a little under $60 a month.
That can be a hefty investment, especially if you don't have wiggle room in your monthly budget for such an expense. And it doesn't usually seem to pay off, considering that 67% of gym members don't even use their memberships.
Luckily, money-saving options abound for fitness seekers.
For one, companies are going beyond perks like 401(k)s and helping employees pay down student loans — they are also offering wellness incentives like money and prizes for individuals who need that extra push to be about the #FitLife.
Is your boss not so generous?
There are still plenty of free — yes, free — ways to get in shape and they don't even require dipping into your emergency fund on your quest for six-pack abs.
Here's where to start.
1. Spy on celebrity trainers via social media
Addicted to Instagram? Make your habit work for you!
Social media is full of personal trainers and fitness gurus — and celebrities, like Khloé Kardashian, who has Khlo-Fit workouts — who just love sharing their physique and, more importantly, their routines online.
Sarah Bowmar, for example, has more than 1 million followers on Instagram and posts regular workout routines to her social media pages people can try on their own. There are also endless home workouts on YouTube to make you weak in the knees for days on end.
No matter your poison (Snapchat, Instagram), you can search social media for free exercise inspiration — and techniques.
2. Check out Facebook for (free) fitness events
Speaking of social media, you might want to take a peek at the nearby Facebook events happening in your area.
Gyms, fitness companies and other groups are notorious for offering bootcamps and special events — sometimes free of charge! — for people to enjoy without taking a second mortgage on their home.
Not all of these are recurring events, but you might be able to fill up your weekends each month (weekdays, too) with a variety of affordable fitness events: Just search for free classes in your city or town.
3. Don't sleep on the free gym trials
Just because gym memberships can get pricey doesn't mean you shouldn't try one! Hit up local gyms to see if they offer free passes to give their facility a try.
In most cases, you should be able to score a day — a week if you're lucky — that will grant you access to workout equipment and group exercise classes that will put you one step closer to your goals.
You can also ask a friend (or three) for a free guest pass to their gym.
Note: Should you happen to find a gym you like, try speaking with the manager to negotiate a membership deal that can help lower costs. It never hurts to ask!
If you're really commitment-phobic, remember that gyms need you more than you need them. So they will do almost anything to get prospective members in the door.
That's one reason why sites like Groupon and LivingSocial offer an assortment of deals for local gyms and fitness companies — including discounted classes and/or memberships below regular prices.
This not only enables you to try out a new workout on the cheap, but gives you the chance to mix up your routine.
And if you don't like facilities? Just don't go back. 
That way you don't even have to use your negotiating skills to get out of an iron-clad gym contract.
4. Embrace peer pressure — and join a fitness group
Nothing is more motivating than some healthy competition. Or moral support.
Meetup.com is a great resource to connect with individuals in your area who have common goals and aspirations.
Be sure to check out all fitness groups in your area as you could be minutes away from teaming up with runners, moms who use their strollers during their workouts, yogis and others passionate about getting in shape.
Many are free and even if the group asks member dues, most are a small fee that doesn't compare to annual gym membership prices.
5. Find an app for your fitness endeavors
Believe it or not, fitness apps are shown to help you exercise more.
Maybe it's the assurance of having a go-to resource at the swipe of a finger — or knowing you have 24/7 tools available that are convenient and will inspire you to make physical changes in your routine. 
There are tons of awesome fitness apps to help you on your journey to get in shape — including ones that boast personal training options. Workout Trainer by Skimble, for example, equips users with free workouts and exercise routines that vary in both difficulty and materials needed.
Like other apps, there's also a premium option where you can receive new training programs on a regular basis and exclusive member workouts for the price of what the average personal trainer charges an hour. 
Not bad.
Sign up for The Payoff — your weekly crash course on how to live your best financial life. Additionally, for all your burning money questions, check out Mic's credit, savings, career, investing and health care hubs for more information — that pays off.