3 big numbers that show how much defunding Planned Parenthood could cost us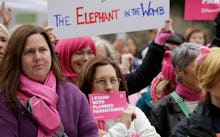 In its boldest move against reproductive health care to date, Congress took significant steps toward defunding Planned Parenthood, which would leave millions without access to affordable health care, according to Mother Jones.  
On Thursday, the House voted to approve HJ Resolution 43, which allows states to withhold funds from any facility that provides abortion services, which means medical clinics like Planned Parenthood would lose approximately $300 million in annual funding.
In December, the Obama administration took preemptive steps to prevent states from denying federal grant funding to facilities that provide family planning, like Planned Parenthood. The House proposed upending this rule using the 1996 Congressional Review Act that gives Congress leeway to overturn new legislation passed within 60 days.
Throughout his campaign and during the early days of his presidency, President Donald Trump and congressional Republicans' resolve to reduce access to affordable reproductive health care has been unyielding.
Republicans insist if Planned Parenthood government funding was slashed, taxpayers would benefit. However, a Think Progress study reported by New York Magazine asserts eliminating government funding would result in a $650 million increase in Medicaid spending over the next 10 years.
Planned Parenthood notes on their website that abortions account for only 3% of all its services, so denying federal funding would block access to screening, medication, family planning and birth control.
"Defunding Planned Parenthood would cut millions of women off from cancer screenings, birth control, and well-woman exams, many of whom would be left with nowhere else to turn," Mary Alice Carter, interim vice president of communications with Planned Parenthood Federation of America, wrote in a statement emailed to Mic. "These folks cannot afford to lose access to Planned Parenthood's preventive services – and we'll keep fighting to serve them, no matter what."  
Three staggering implications that would make access difficult to affordable reproductive health care include little to no obtainability to low-income families, reduced availability of birth control (which directly impacts the reduction in abortion) and little availability for affordable STD/HIV testing and treatment.
579,000: That's how many unplanned pregnancies Planned Parenthood prevents per year through contraception
Approximately 31% of Planned Parenthood patients seek contraceptive services, averting 197,000 abortions in a single year thanks to contraception.
The abortion rate is at an all time low because a larger group of women and men have widespread access to birth control, according to a new report by Guttmacher Institute, Vox reported. 
"In 2014, an estimated 926,200 abortions were performed in the United States, 12% fewer than in 2011; the 2014 abortion rate was 14.6 abortions per 1,000 women aged 15 to 44, representing a 14% decline over this period," report authors Rachel K. Jones and Jenna Jerman wrote.
Planned Parenthood health centers also saw a 900% increase in requests for appointments for long-acting contraceptives such as IUDs in the days right after the election, showing how many people both rely on Planned Parenthood for care and are worried about losing their access to health care under the new Congress and new administration, Carter said. 
45% of Planned Parenthood's services are STD/STI treatment and testing
An estimated 4.2 million STD and HIV tests and treatments were provided through Planned Parenthood in 2014, including services to men. The Centers for Disease Control and Prevention reported an increase in cases of chlamydia, gonorrhea and syphilis, with chlamydia being the highest ever reported by the CDC.
"Everyone deserves a sex life that is safe and healthy as well as pleasurable. Getting comfortable talking about STD testing and using protection is a good way to take care of your health and your partner's," Dr. Leslie Kantor, vice president of education at Planned Parenthood Federation of America, said in a press release. "Knowing your status is one of the most important things you can do to protect your health and take control of your sex life — and it's easier than ever before."
75% of Planned Parenthood patients live at or below 150% of the federal poverty level
More than half of poverty-level patients reported that without access to a resource like Planned Parenthood, they would have trouble finding affordable assistance, according to reporting by Think Progress.
Previous research by the Guttmacher Institute showed a significant number of Planned Parenthood patients lives at or below the poverty level, making affordable health care the only available safety net.