Meet Marvel's Beyoncé-inspired queer Latina superhero America Chavez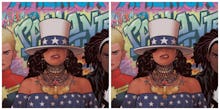 America Chavez is the queer Latina superhero the world sorely needs in Donald Trump's anti-LGBTQ, border-loving nation. And now we have a sneak peek of what she'll look like when she's debuted as one of newest female-led titles:
The image, of a "Formation"-inspired brown woman dressed in patriotic red, white and blue but with a grimace on her face, is from comic book artist Joe Quinones:
Axel Alonso, Marvel's editor-in-chief, wrote in email to Mic that the new comic America "puts an explanation point on the rich and diverse characters within the Marvel Universe." 
"In America, the former Young Avenger stands resolute against an oncoming alien horde all while managing her social life and trying to attend various classes on other worlds," Alonso said.
Gabby Rivera, the Boricua author of the young adult novel Juliet Takes a Breath and writer behind the new comic, shared the new image on Instagram on Tuesday. Rivera is tasked with bringing to life Chavez, one of the break out characters of a 2013 superhero team called the Young Avengers.
Marvel has made history in recent years by introducing a series of diverse characters, like the Black Panther and Kamala Khan. It's all part of their very deliberate effort to appeal to new consumers in broader markets — and not just the white males who are traditionally associated with comic book culture. 
Rivera's been open about the challenge of creating such a new and dynamic character. 
"It's a little bit terrifying and intimidating to be a queer woman entering the Marvel universe," she said in an interview with Refinery29. "Internally I've been like, man are people gonna read this and tear me apart because of my identities? Because I'm a woman?"
The comic hits shelves on March 1.