Jennifer Lawrence called her leaked photos a sex crime — but it wasn't sentenced like one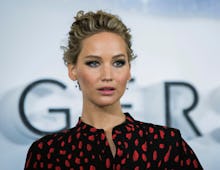 Edward Majerczyk, the 29-year-old hacker who stole nude videos and photos of celebrities as part of 2014's massive hack dubbed "Celebgate" or the "Fappening," received a nine-month prison sentence on Tuesday.
Majerczyk was charged with "one count of unauthorized access to a protected computer to obtain information" as part of a plea deal, the Chicago Tribune reported — a charge with a maximum five-year prison sentence. This means he was punished for the act of hacking, not for spreading nude photos of 30 nonconsenting women.
Jennifer Lawrence, one of the victims of Majerczyk's hack, referred to the phishing scam — in which Majerczyk illegally cracked into his victims' Apple iCloud and Gmail accounts and obtained "personal information including sensitive and private photographs and videos" — as a "sex crime" in a 2014 Vanity Fair interview.
Majerczyk's nine-month prison term is slightly longer than previous sentences in similar cases, and it reflects the ongoing battle to treat the dissemination of explicit images without someone's consent for what it is — a sex crime. 
But is the punishment enough?
Majerczyk violated the privacy of dozens of women without their consent. He will serve only nine months.
Such leniency of prison time isn't unusual for a revenge porn case. A 31-year-old man in Oregon posted pornographic material of him and his partner on "multiple adult sites" without his partner's consent — he was sentenced to six months in jail and five years' probation. A 21-year-old man in London who posted sexual photographs of a woman on Facebook without her consent was sentenced to six months in prison and was given 100 hours of unpaid work.
To put their sentences in perspective, an Anonymous hacker who exposed the violent rape of an underage girl in Steubenville, Ohio, faces up to 16 years in prison. A former journalist was sentenced to two years for providing Anonymous with login credentials for Tribune Company computers. 
"The sentences associated with these crimes must treat sextortion as a sex crime," a legislative proposal by the Brookings Institution suggests. "Sextortionists are a form of online sexual predator. Federal law needs to recognize them as such."
When approximately 10.4 million people have been threatened or targeted by revenge porn, it's important that perpetrators receive appropriate sentences. 
"The conduct is abhorrent," U.S. District Judge Charles Kocoras said regarding Majerczyk's invasion of privacy, the Chicago Tribune reported. "It's a very, very trying time that we live in."
Now if only the laws would catch up.