ACLU asks for new Jeff Sessions confirmation hearing in wake of Trump executive orders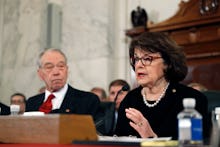 The American Civil Liberties Union is arguing that President Donald Trump's executive actions on immigration, border security and refugees warrant a new senate hearing for Jeff Sessions, his nominee to head the U.S. Department of Justice.
In a letter sent Wednesday to the Senate Judiciary Committee, the ACLU called on Sens. Chuck Grassley (R-Iowa) and Dianne Feinstein (D-Calif.), to delay a scheduled vote on Sessions' nomination in light of the Alabama senator's reported involvement in Trump's executive orders. 
Without a new hearing, the ACLU said, the Senate is unable to meet its constitutional obligation to exercise "advise and consent" on Sessions' complete record, which may now include his involvement in Trump's orders to reject immigrants from seven Muslim-majority countries including Syria, build a border wall between the United States and Mexico and immediately cease taking on Syrian refugees.  
"The Senate should vigorously question the role of Sen. Sessions in developing these new orders and proposals and his plans to implement and execute them," the group wrote in the letter signed by the directors of its Washington legislative office. 
Grassley, the Senate Judiciary Committee chairman, and Feinstein, the ranking member, did not immediately respond to Mic's request for comment.
People familiar with the Trump administration's discussions about those orders, which made good on some of Trump's most xenophobic campaign promises, told the Washington Post that Sessions and senior Trump adviser Stephen Bannon were "deeply involved."
Recalling a Cabinet nominee for additional hearings is not an unprecedented maneuver. In 1986, after Sessions' nomination for a federal judgeship was felled by allegations of racism, Republicans and Democrats agreed to a second hearing for the then-federal prosecutor. Sessions was never confirmed to the U.S. District Court.
"The best precedent for recalling Jeff Sessions is Jeff Sessions himself," Faiz Shakir, the ACLU's national political director, said by phone.
During testimony before the Senate Judiciary Committee on Jan. 10, Sessions said he disagreed with Trump's call to ban Muslims from the country. "I have no belief and do not support the idea that Muslims, as a religious group, should be denied admission to the United States," he told the committee.
If Sessions had involvement in Trump's executive order on the Muslim ban, and the Senate does not question the Sessions further, senators would be abdicating their role, according to the ACLU.
"The Senate cannot meaningfully carry out its constitutional obligation without Sen. Sessions testifying to his views on President Trump's actions that threaten civil rights, civil liberties and executive authority," the letter reads. "Going forward with a vote on the attorney general nomination without a second hearing would be an abdication of the Senate's constitutional role."
The White House did not respond to Mic's request for comment.