How to make a vampire in 'Sims 4' with the new Vampires expansion pack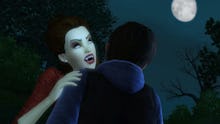 Using cheat codes in The Sims — and most recently, The Sims 4 — is basically a hallmark of the series, so playing around with your individual Sims is nothing new. That's why making vampires out of existing Sims is so much fun. There are a couple of ways you can do it with The Sims 4 Vampires expansion. Here's how you can create vampire Sims from scratch or turn Sims you already have into vampires, and the Sims 4 vampire powers you'll unlock.
How to make a vampire in The Sims 4 from scratch
If you want to make a vampire Sim from scratch, you need only visit the "Add a Sim" option at the left lower corner of the screen in The Sims 4. Click the "add vampire" option. This is a normal game function that does not require any special codes or accessing the cheat code command panel. 
You can customize your vampire Sim to your liking, selecting eye color, shape and plenty of other options. You can customize the vampire's normal form or dark form as well. 
If you don't prefer the creepier dark form, you can select only one form for your vampire. If there is a Sim available to you in your gallery, you'll have to instead change that one into a vampire while you're in the regular game. 
How to make a Sim become a vampire in The Sims 4
If you want to turn your existing Sim into a vampire, the process is a little more difficult than if you just made one at the start. You will need to find a vampire to turn your Sim into.
You can start this process by going to the Sims who live in Forgotten Hollow and talking to them about vampires. Interactions that have to do with vampires will be denoted with a little vampire bat. There are a few ways you can accomplish the vampire transformation. You can befriend Sims and talk about vampires enough, and even Vladislaus Straud, a Dracula-like Sim, will reach out to you via text message. 
Vladislaus Straud can turn your Sims into vampires, and is more than happy to do so. You can head to the mansion with the graveyard surrounding it or the Forgotten Hollow at Vlad's statue. 
Vlad may hypnotize your Sim, but in the end, your Sim will be bitten and will begin craving blood and plasma. Your Sim will be given a few plasma packs to take home with them to get the process started. 
The entire transformation will take a few days and they will begin rejecting food. Once your Sim has become a vampire you'll need to supply them with plasma, plasma packs or plasma fruit to keep them "fed." 
More video game news, updates, tips and tricks
For more video game news, check out the latest from Mic, including our Resident Evil 7 review roundup, the latest on Niantic's quest to ban Pokémon Go cheaters and a new trailer for the final chapter of Dark Souls 3.