Hundreds rally in NYC to protest Donald Trump's executive orders on immigration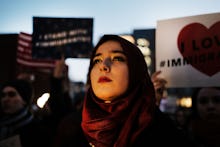 On Wednesday, hundreds of New Yorkers rallied in Washington Square Park to take a stand for refugees, immigrants and Muslims in the United States.
City officials, community organizers, activists, students and local residents united to stand against President Donald Trump's executive orders to build a border wall between the United States and Mexico, to cut funding to "sanctuary cities" and to potentially ban refugees from entering the country and suspend visas for immigrants and visitors from seven Muslim-majority countries. 
The demonstration, organized by the Council of American-Islamic Relations of New York in less than 24 hours, made the spacious public park look like Times Square on New Year's Eve.
"As a city of immigrants, we cannot stay silent in the face of such hate," CAIR-NY's Facebook event page read. "We ask you to gather tonight (Wednesday), to show President Trump that all New Yorkers stand with our Muslim and Latino neighbors. Together, we will form a beacon of light against the coming darkness."
Muslims, who saw outpouring love and acts of solidarity from their fellow New Yorkers at the rally, were overwhelmed with emotion. Unfortunately, however, they're still unable to shake the fear and uncertainty that awaits them in Trump's America.
A woman who asked to be identified as Banu headed straight to the rally after completing her late afternoon prayer after work. The Iranian journalist immigrated from Iran to the U.S. in 2009, right after the controversial re-election of Mahmoud Ahmadinejad, Iran's then-president, and his crackdown on protesters during the country's uprising. 
Trump's executive order will put Banu, who has an artist visa that's expiring soon, in a state of jeopardy. And for someone who has lived under a repressive regime, Banu said the executive order is like "a big slap on the face."
"I came to the U.S. because I really love the people and I love this country," Banu said. "I really thought this country was based on liberty, justice and equality. But now, I'm at a loss."
Banu's mother and brother initially had plans to visit her in a few months, but with the executive order expected to be issued this week, she's horrified at the thought of her family being turned away. Banu said she's never felt more terrified in her life, even as an activist in Iran.
"I've never felt unsafe in Iran, and here in America, I do feel unsafe," Banu said.
Most of Shiyam Galyon's family members live in war-torn Syria. With an impending ban on all refugees entering the United States, she's losing hope of reuniting with her family.
"Now all hope of seeking asylum or resettling here is lost," Galyon said. "[The executive order] is the final nail on the coffin. It's saying 'No, your family cannot see you.'"
Galyon works as a campaign coordinator for Books, Not Bombs, a student-led initiative to help displaced Syrians earn scholarships to universities in the United States, and has already received messages of concern from her Syrian students. 
"They don't know if they need to be looking somewhere else," Galyon added. "They're scared that they might not be able to see their families anymore."
Sherif Ibrahim, 24, works as an English teacher at a Brooklyn high school. He said his students, many of them Yemeni, are already bracing themselves for Trump's anti-Muslim immigration policy.
"[My students] are suffering at the hands of this, because to them it's 'I'm going to be sent home.'" Ibrahim said. "'I'm going to be sent back. Why even bother trying in school? Why try to make something of myself in this country when everything about this country hates me.'"
Ibrahim said the anti-Muslim rhetoric espoused by Trump and his administration has terrified his students and made them feel trapped. 
"These children's minds, their psyche, are being affected," Ibrahim said. "They're thinking 'I am not a good person.' It's just innate and they can't just fight against it."
But the diverse crowd — with some people holding candlelights and others raising witty posters — has left Ibrahim feeling slightly optimistic.
"This is beautiful," Ibrahim said. "I couldn't be happier. We are all suffering Trump's policies whether we're Muslim, Jewish, black, white, or indigenous. To see people unite and believe in fighting back — that's a signal. It means something."