'Diablo 3' Update 1.17: Patch notes for the latest PS4 version of the game revealed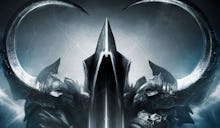 Diablo 3's patch 1.17 was recently released to quizzical PlayStation 4 players. The patch is meant to smooth over known crashing issues for PS4 players after the launch of patch 2.4.3, which brought with it the Diablo 3 in-game anniversary event and a whole host of other augments. 
Some fans were hopeful patch 1.17 was an important prep for Seasons, the equivalent of Diablo 2's Ladders, as Redditor P1rateKingAtomsk expressed. 
Others were baffled as to what this huge update was they had to download before getting on with their day so they could just play some Diablo 3.
"Just sat down for some couch co+op and I've got a 1.2 gb patch to download first," wrote user skankyfish in the same Reddit thread.
As one user, Abyss_walking, pointed out, the patch wasn't anything to get excited about, which was confirmed by a quick look at the DiabloFans forums with information corroborated by Blizzard. Maybe next update, Seasons hopefuls!
More Diablo 3 news and rumors
Mic has all the latest Diablo news, including updates on when we might be able to expect the Necromancer's appearance, Diablo 3's recent anniversary patch, and more.