'Diablo 3' Necromancer Q&A: Expansion release date, skills, price and everything we (didn't) learn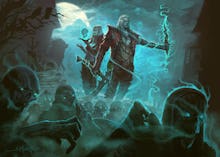 Diablo 3 is getting a brand new playable class in the form of the Necromancer, though Blizzard hasn't yet given a date for its release. The Necromancer class, which is actually a bit of a throwback to the days of Diablo 2, has been an impending release for some time, three years after Blizzard originally put out a new class for Diablo 3 in the form of the Witch Doctor. 
There's been a lot of Diablo buzz lately, especially with the release of a new patch, but the Necromancer is one of the most anticipated expansions for Diablo. With the Necromancer's debut on the horizon, here's a look at everything we know about the new class, including information Blizzard announced during a special livestream Q&A about the Necromancer on Thursday.
Diablo 3 Necromancer Class: When to expect a release date and price
The Necromancer class for Diablo 3 does not have a release date or price just yet. However, Blizzard has confirmed that both PC and console players will get the update at the same time. When it is available, you'll get the Necromancer as a playable character, a new in-game pet, two additional character slots, two additional stash tabs (PC only), a portrait frame, pennant, banner and banner sigil.
Players will need to ensure they own both Diablo 3 and Diablo 3: Reaper of Souls if they want to access the Necromancer, at least on PC. For Xbox One or PlayStation 4 players, the Ultimate Evil Edition will suffice. 
Diablo 3 Necromancer Release Date 2017: Necromancer class details 
This new Necromancer class for Diablo 3 isn't a simple throwback with new lore and additional abilities. Think of it as more of a reimagining, as Blizzard suggests, of the classic Necromancer.  
The Necromancer will be able to draw upon "death magic" and can rely on abilities like summoning skeletons and various other abilities like Bone Spear, Siphon Blood and a teleportation burst called Blood Rush, according to Blizzard. The Necromancer is a master of the dark arts and can even control creatures such as golems. 
Blizzard has stated that the Necromancer will also be receiving a set of legendaries and set items, including a class-specific scythe. The "Revive" ability will be also making a return, according to Blizzard's Necromancer Q&A session.
Diablo 3 Necromancer Release Date 2017: Blizzard Necromancer Q&A information
Blizzard held a special livestream during which developers answered questions from fans previously gathered via the Diablo 3 forums. In the stream, many familiar topics were discussed, such as the fact that the Diablo 2 Necromancer was used as a base of sorts for Diablo 3's class and whether the class will feature golems. However, there was also a wealth of new information shared. 
For instance, the Iron Maiden gameplay skill will not be included in the Diablo 3 build. Also some of the Necromancer's pets will be temporary, some permanent, with the inclusion of both skeletal archers and mages. The skill Decrepify will also be returning, a curse that combines both Weaken and Amplify Damage, adding speed reduction to a target in addition. 
Most importantly, Blizzard stated that there will be further updates to show fans how things are progressing, though there isn't currently a plan for how frequent updates will be. 
Now it's time to officially get hyped about the Necromancer class. Get out there and start battling the enemy hordes!
More Diablo 3 news and rumors
Mic has all the latest Diablo news, including updates on when we might be able to expect the Necromancer's appearance, Diablo 3's recent anniversary patch and more.