Who is Sean Spicer? What to know about Trump's White House press secretary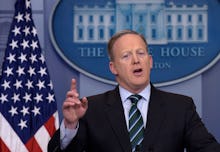 Sean Spicer is both the White House press secretary and director of communications for President Donald Trump's administration, making him its media relations policymaker and its public face. So what is there to know about Spicer? 
He's had a varied political career
Spicer, 45, attended Connecticut College and graduated in 1993 with a B.A. in government. According to Metro, his first political position was working with Mike Pappas, a Republican representative from New Jersey. Spicer then joined the U.S. Naval Reserve in 1999 as a public affairs officer. Since then, he has risen to the rank of commander. 
Spicer worked as the communications director and spokesman for the House Budget Committee from 2003 to 2005 but moved on to become part of the George W. Bush administration from 2006 to to 2009 as the assistant U.S. Trade Representative for media and public affairs. Oh, and he was also the Easter Bunny during a White House Easter Egg Roll. 
He was the RNC's communications director 
Spicer worked as the communications director for the Republican National Committee from 2011 through 2016, during which time he made some lukewarm criticisms of Trump's candidacy, including his statement that Trump's speech blaming Mexican immigrants for crimes in America was "not helpful." 
Of course, it would later become his job to defend Trump as the Republican presidential candidate, and most people remember him doing so in kind of an odd way. After Melania Trump came under fire for plagiarizing some of her Republican National Convention speech from an earlier Michelle Obama speech, Spicer defended her, saying one can take "a bunch of phrases" someone has said, run them through Google and call it plagiarism. As a form of proof, he compared a line in the speech to a similar line about achieving one's dreams by Twilight Sparkle from My Little Pony. 
Spicer left his position with the RNC when he was offered the job as press secretary for Trump's administration. The Telegraph notes Spicer's close relationship with Reince Priebus, Trump's chief of staff, stating Priebus and Trump's faith in Spicer is an indication of why he now holds two positions in the administration. 
His relationship with the press is contentious
Spicer's difficult relationship with the press began far before he was chiding the media for its reporting on inauguration crowd sizes
The New York Times reported that when Spicer was in college, he wrote a scathing letter to the school's paper after it referred to him as "Sean Sphincter" in a story. In his response, Spicer wrote, "While those involved claimed that this was a copy joke that went unnoticed, I believe that it was a malicious and intentional attack."
On Monday, Spicer sparred with a Time reporter who incorrectly claimed that the Trump administration had removed a bust of Martin Luther King Jr. from the Oval Office. Though the reporter corrected the statement and apologized on Twitter, Spicer retracted his earlier acceptance of the apology and kept firing. 
"Where was the apology to the president of the United States?" Spicer asked. "Where was the apology to millions of people who read that and thought how racially insensitive that was?"
And it's not just the press he's got problems with. By now, you must have heard about his bizarre takedown of Dippin' Dots or the fight he must have with his digestive system when he swallows his gum every day.