'Minecraft' Skins PC: Free character skins — how to find and install them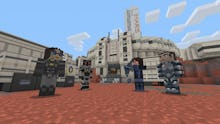 Minecraft has an extremely large cache of custom skins you can use for your characters. In fact, that's part of the fun of playing the game, customizing what your player character looks like as you traverse the land and create new structures. You can play as a Mass Effect character, an astronaut, a soldier or even a Power Ranger. There are hundreds of skins from Microsoft, professional creators and the modding community. If you've ever wondered how you can change Minecraft skins in the PC version of the game, here's how you can go about doing it. 
Minecraft Skins PC: How to get new skins for free
Minecraft skins are plentiful online. If you're playing on a console version like the Xbox One or Xbox 360 edition, there are special skin packs you can simply purchase that are automatically added to your skin arsenal. If you're using a PC, however, you can start by looking for skins online to download. 
Minecraft Skins is a good resource, as is the Skindex. You can navigate these sites to find designs that you like and they're all free. When you download the skins you will be downloading image files since that's essentially what the skins are, simple pictures that will alter the look of your protagonist. You can even create your own skins using Photoshop, MS Paint, or a similar art program. If you play on mobile, there is a special app you can download to create your own as well. 
In most instances, you'll be able to right click and choose the save-as option on the skin image you've selected. Other sites will have a "download" option ready for you right by the skin. 
Minecraft Skins PC: How to install character skins
Once you have a skin, log on to your Minecraft profile at minecraft.net and profile. Look for the "upload to Minecraft" option or "change skin." Choose the skin image you downloaded or created previously. You may have a "Steve" skin, which is a classic model, or you may have an "Alex" model. The Alex model has slimmer arms. Make sure you choose the correct skin and choose the model it corresponds to. Your skin should change, in a couple of minutes or so. 
Log into Minecraft via the Minecraft launcher and your new avatar skin should be live. Later, rinse and repeat going forward with all sorts of new skins whenever you want to change them out. You won't see your character skin by default since the game is usually played via first-person, so zoom out into third-person view to see what your handiwork has gotten you and admire your new skin by pressing the F5 key. 
Enjoy your newly-skinned characters!
More video game news, updates, tips and tricks
For more video game news, check out the latest from Mic, including our Resident Evil 7 review roundup, the latest on Niantic's quest to ban Pokémon Go cheaters and a new trailer for the final chapter of Dark Souls 3.