Report: Homeland Security halts refugee resettlement interviews as Trump bans Muslims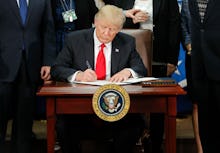 Refugees waiting for resettlement interviews with the U.S. Department of Homeland Security may wait longer than anticipated, as President Donald Trump makes good on a campaign promise to curtail asylum-seekers from Muslim-majority countries.
According to Reuters, DHS officials have stopped staff abroad from conducting interviews in anticipation of Trump's executive order to ban refugee resettlement for citizens of Syria and a half dozen other countries in the Middle East and Africa.
The move by DHS officials effectively pauses an already years-long process of resettlement for those fleeing war and civil conflict in their home countries. White House press secretary Sean Spicer told reporters on Thursday that Trump could sign the order temporarily barring refugees from the specified nations as soon as Friday.
"In the past, when we've frozen the refugee program to re-examine security issues, it's been really important to continue processing even if you can't admit people, because processing times in this program can be two to three years," Becca Heller, director of the Urban Justice Center's International Refugee Assistance Project in New York, told Reuters.
In addition to the DHS screening and vetting by other U.S. agencies, asylum-seekers are interviewed by the United Nations High Commissioner for Refugees.
DHS leadership communicated the halt to refugee screeners on Wednesday, the same day Trump outlined sweeping immigration policies, including the construction of a border wall between the U.S. and Mexico and a crackdown on so-called "sanctuary cities" that have pledged not to assist Immigration and Customs Enforcement agents in deporting nonviolent, undocumented immigrants.
Trump and others in the Republican Party have used recent terror attacks carried out by militants in the Islamic State group in Europe to stoke fears in the U.S. around resettlement of refugees from Syria, Iraq and Yemen, among other Muslim-majority nations. They've argued the resettlement programs aren't effective enough at vetting refugees and might be exploited by militants hoping to carry out attacks in the U.S.
But many critics — Muslim civil- and human-rights activists, Democrats and even some Republicans — have decried the proposal as thinly veiled Islamophobia. Some critics also see it as another way for Trump and Republicans to undo the work of former President Barack Obama, who approved the entry of up to 110,000 refugees in the 2017 fiscal year, Reuters reported.