Donald Trump to Hannity: The media are "very hostile people"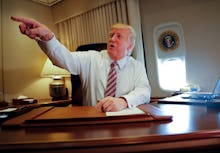 President Donald Trump gave an early assessment of his first full week in the Oval Office Thursday night in a sit-down interview on Fox News' Hannity. The president blasted media outlets over how they've covered him.
Despite having "a great week" as president, Trump told Fox News host Sean Hannity that many journalists covering the first few days of the administration have shown themselves to be "very dishonest people."
"These are very hostile people," Trump said. "These are very angry people."
That sentiment seemed to be his administration's official posture with media outlets. On Wednesday, chief White House strategist Steve Bannon reportedly said media "should be embarrassed and humiliated and keep its mouth shut" about the topics dominating news cycles, including Trump's insistence that his inauguration crowd size was larger than it was and that millions of people voted illegally in the 2016 election.
Hannity, who is famously partisan and supportive of Trump, asked the president if he agreed that outlets such at the New York Times, CNN and NBC had "colluded against you in a campaign." 
"Yeah," Trump replied. "The media is very dishonest. I've been saying it. I say it openly."
But Trump didn't agree with the Fox News host's assertion that "journalism's dead."
"Never dead, but they're very dishonest people in many cases," Trump said. "Hey, look you have some very honest ones. But I get stories that are so false and so dishonest."
The more recent sources of Trump's frustration with media stem from the days leading up to his Jan. 20 inauguration. BuzzFeed's publication of an unverified dossier containing salacious allegations against Trump, in part, sparked a testy exchange with journalists during a Jan. 11 press conference at Trump Tower in Manhattan.
On Jan. 21, a White House press pool report that stated incorrectly a bust of the Rev. Martin Luther King, Jr. had been removed from the Oval Office really set the Trump administration off. "See that's a very serious charge," Trump told Hannity. "Because they're not saying the bust was taken out. What they're saying is that I'm a racist. That's what they're saying."
Media were a choice punching bag throughout the Hannity interview. Trump said journalists never treated his predecessor, former President Barack Obama, the way he has been treated. He also took aim at NBC's Saturday Night Live over jokes a writer told about his son, Barron.
"For them to attack, for NBC to attack my 10-year-old son... it's a disgrace," the president said. " And he's a great boy. And it's not an easy thing for him. Believe me."