White woman at the center of Emmett Till's murder admits she lied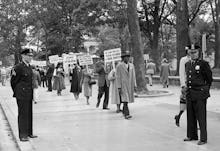 For decades, the story of Emmett Till's 1955 lynching went something like this: Till, then 14, was visiting relatives in Mississippi from his hometown of Chicago when he whistled at a white woman in a local store. News of the transgression quickly spread, and days later he was found brutally beaten, shot and drowned. One of his eyes had been gouged out, and his face had swelled beyond recognition.
Now, Vanity Fair details how author and professor Timothy B. Tyson wound up correcting a crucial detail of that story in his forthcoming book, The Blood of Emmett Till.
As Tyson reveals, Carolyn Bryant, the white woman at whom Till had allegedly whistled, lied in parts of her testimony.
Bryant, whose husband, Roy Bryant, and another white man named J.W. Milam, were put on trial and later acquitted in Till's death, was put on the stand. Her testimony undoubtedly swayed the verdict. She said that what Till had said to her was "unprintable" but that he had bragged about being "with white women before." To top it off, she told the judge, "I was just scared to death."
Except that she wasn't. Because it never happened. And she confessed as much a decade ago.
From Vanity Fair:
In a new book, The Blood of Emmett Till (Simon & Schuster), Timothy Tyson, a Duke University senior research scholar, reveals that Carolyn — in 2007, at age 72 — confessed that she had fabricated the most sensational part of her testimony. "That part's not true," she told Tyson, about her claim that Till had made verbal and physical advances on her. As for the rest of what happened that evening in the country store, she said she couldn't remember. (Carolyn is now 82, and her current whereabouts have been kept secret by her family.)
It's a bombshell revelation that adds yet another shocking layer to Till's infamous case. Till's death, and the brutality of it, became international news and a key turning point in the fight against Jim Crow in the South. His mother, Mamie Till, insisted that photos of her son's mutilated face be made public. "I wanted the world to see what they did to my baby," she said. 
But always, some portion of the story blamed Till: He was killed because he whistled at a white woman. He was a cocky Northerner unaccustomed to the ways of the South, a naive boy who fundamentally misunderstood his place in Mississippi's racial pecking order.  Underscoring all of this was the idea that black people better not make Till's mistake. They'd better know their place, or else.
Bryant's testimony, however fabricated, worked. Her husband and his accomplice were acquitted, and months later confessed their guilt to Look magazine. They walked away with $3,000 — a tiny fortune in the 1950's — for their admission. No one was ever held accountable for Till's death.