Is Nintendo Switch replacing the 3DS? Here's what we know so far.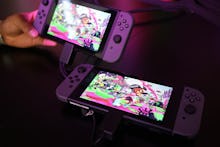 It's easy to assume — via the handheld nature of the Switch and its on-the-go capabilities — that Nintendo is replacing the 3DS, but that's not the case. Nintendo has made several claims that the portable Switch system and the Nintendo 3DS will exist in tandem and not compete with each other directly. 
Let's dig into exactly how the Nintendo Switch and 3DS will co-exist in 2017 and beyond.
Is Nintendo Switch replacing the 3DS?
In an interview with Wired, Nintendo of America president Reggie Fils-Aime had this to say about the Switch and the Nintendo 3DS:
3DS has a long life in front of it. We've already announced games that will be launching in the first couple quarters of this year. There are a number of big games coming. And in our view, the Nintendo 3DS and the Nintendo Switch are going to live side-by-side. You're going to be meeting different price points, you're going to be meeting different types of consumers, you're going to have the newest, freshest content available on Nintendo Switch, you've got a thousand-game library available on Nintendo 3DS, plus some key new ones coming. They're going to co-exist just fine. We've done this before, managing two different systems.
Further evidence that this is true stems from the upcoming slate of Nintendo 3DS releases, which includes a new Pikmin title, Mario Sports Superstars and Poochy & Yoshi's Woolly World. Nintendo is also releasing a brand-new 3DS variant in the form of the Pikachu Yellow Edition of the New 3DS XL. 
It's also important to remember the Nintendo Switch won't feature a very long battery life, having been quoted as lasting roughly three hours while playing a game like The Legend of Zelda: Breath of the Wild. Overall, Nintendo has said that the system will last between 2.5 and 6 hours, depending on what you're using it for. It's a lot less time than you can currently spend with a Nintendo 3DS.  
There are several reasons why it might seem like Nintendo 3DS users should abandon ship and jump on the Switch boat going forward, but keep in mind the Nintendo Switch is not going to be backwards compatible with hardware Wii, Wii U or Nintendo 3DS games. In that case, you'll definitely want to hold onto your older titles and systems to make sure you've got something to play them on. 
Bottom line: As the Nintendo gaming ecosystem continues to spread out, you'll want to stay tuned to see what's next for both systems. 
More Nintendo Switch news
Check out more details on the Nintendo Switch, including information on the console's price, release date, pre-orders and battery life. If you're interested in the Nintendo Switch's games, here's info on the new Super Mario Odyssey game, Legend of Zelda: Breath of the Wild, Splatoon 2, Xenoblade Chronicles 2, 1-2-Switch and the goofy boxing game Arms.