'Injustice 2' Gear List and System: Everything we know about gear slots and gear sets so far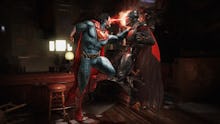 Injustice 2 is the upcoming sequel to the popular fighting game featuring Batman, Superman and other familiar characters from the DC Comics universe. It will feature a revised gear and armor system in comparison to the previous title, and a recent Injustice 2 livestream was able to further explain these new mechanics. If you want an explanation of how the gear system will work going forward, we have the strategies here to help you get primed and ready for some good, old-fashioned brawling.
Injustice 2 Gear System: How gear sets will work 
Gear sets in Injustice 2, according to the Injustice 2 livestream, will largely vary from character to character and which you choose to play as. For example, your fighter of choice could be utilized for either up-close-and-personal fighting or long-range combat. Your gear set will be totally customizable to fit the type of character you want to make your own. The livestream demonstrated this with Atrocitus, utilizing ability-enabling gear meant to for close-range fights that could drain special meters of those in range. 
Injustice 2 Gear System: How gear slots will work 
Gear slots will not be unlimited, according to WWG's analysis, so they must be used sparingly. You'll have to take this into account when you work with your favorite fighters and outfit them accordingly. Leveling up will also alter how the gear works. The gear you utilize will become more powerful as you level up, but it's possible it then may take up multiple gear slots. Each character is slated to have about five gear slots, two ability slots and a base skin at the beginning. 
This is basically all we've been able to splice together thus far, but there will be plenty of opportunities going forward to lean more about gear sets and gear slots as we inch closer to the game's release. Currently, the Injustice 2 closed beta is going on, so if you want a front seat for all the action, make sure you check out our guide for getting into the beta as well as all of our other Injustice 2 news.
We'll have more news on Injustice 2 soon, hopefully including a full gear list. Stay tuned.
More fighting game news and updates
While you try to get into the Injustice 2 beta, read more fighting game news on Mic. Find out more about Super Smash Bros. for Switch, the Injustice 2 roster, the Tekken 7 console release date, what to expect from Marvel vs. Capcom: Infinite and the Evo 2017 lineup.