Read the full text of Trump's executive order targeting Muslims immigrants to the US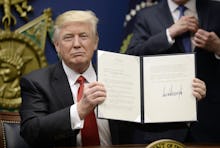 President Donald Trump on Friday signed a promised executive order temporarily suspending the nation's refugee resettlement program and barring immigrants from nations that harbor "would-be terrorists."
Although the text of the executive order released by the White House does not specifically mention the Islamic faith, it contains language connoting it is targeting Muslims. The text also evokes 9/11, which was carried out by terrorists from nations unaffected by Trump's order.
"The United States cannot, and should not, admit those who do not support the Constitution, or those who would place violent ideologies over American law," the order reads. 
It goes on to cite Western stereotypes and rare barbaric acts typically and ignorantly associated with Islam.
In addition, the United States should not admit those who engage in acts of bigotry or hatred (including "honor" killings, other forms of violence against women, or the persecution of those who practice religions different from their own) or those who would oppress Americans of any race, gender or sexual orientation.
Before Trump signed the order, it had been widely reported he intended to bar refugees seeking asylum in the United States if they came from Syria and six other Middle Eastern and African nations. The Department of Homeland Security ordered staff abroad to halt refugee-screening interviews, Reuters reported.
Reports of Trump's actions sparked large protests Wednesday in New York City and other major U.S. cities, under the #NoBanNoWall rallying cry. But Trump made good on campaign rhetoric Friday, having promised to broadly suspend or ban Muslim immigration and refugee resettlement until "extreme vetting" measures could be taken.
"I hereby proclaim that the entry of nationals of Syria as refugees is detrimental to the interests of the United States and thus suspend any such entry, until such time as I have determined that sufficient changes have been made to the [U.S. Refugee Admissions Program] to ensure that admission of Syrian refugees is consistent with the national interest," Trump states in the order.
Read the full text of the order below: