Miss Canada Siera Bearchell makes Top 13 at Miss Universe after being fat shamed by trolls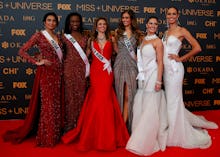 Miss Universe Canada Siera Bearchell not only endured body shaming from trolls — she triumphed over them by making it to the competition's final 13. She graced the stage on Jan. 29 in Manila, Philippines, after taking on her haters in a public Instagram post earlier this month.
A graceful Instagram take-down
On Jan. 17, Bearchell addressed trolls' questions about her weight gain by posting on Instagram. The 23-year-old contestant posted a photo of herself in a swimsuit, along with a message about body positivity. 
"I am first to say I am not as lean as I was when I was 16, 20, or even last year, but I am more confident, capable, wise, humble and passionate than ever before," she wrote. 
After Steve Harvey named the top 13 contestants in the competition, Ashley Graham asked Bearchell about coping with body shaming.
"What do you say to the haters?" Graham asked.
"To the haters, I say we are confident with who we are, because we are women and we — that's what we want to be," Bearchell said. "We are women who are confident with ourselves. We love ourselves, and that's what's important." 
Graham followed up by asking how girls can feel more confident.
"Focus on what you love about yourself, because in our society, we are told to look at the things we want to change," Bearchell said, echoing her Instagram post. "But if we look at the things we love, that's what's important, and that keeps us confident."
Previously, Bearchell admitted to the BBC that she ate "very little" and "worked out a lot" in order to meet societal standards.
The other top 13 contestants were Miss Kenya, Miss Indonesia, Miss USA, Miss Mexico, Miss Peru, Miss Panama, Miss Colombia, Miss Philippines, Miss Brazil, Miss France, Miss Haiti and Miss Thailand.