How one woman's Facebook post spurred massive airport protests after Trump's Muslim ban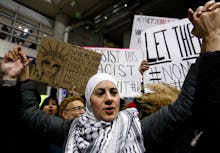 Immigrants, their families and their attorneys spent much of late Friday night sorting through what, exactly, President Donald Trump's ban on travelers from Muslim countries would mean. 
The order, titled "Protecting the Nation From Foreign Terrorist Entry To the United States," temporarily suspended entry to the U.S. for 90 days of people with passports from Iraq, Iran, Syria, Sudan, Somalia, Yemen and Libya, all countries in which the predominant religion is Islam and that Trump wrote were "compromised by terrorism."
Then on Saturday, at nearly a dozen airports across the country, including New York City's John F. Kennedy International Airport, Boston's Logan Airport, Los Angeles International and Detroit Metropolitan Airport, protests offered a first-hand look at what organizing will look like in Trump's America. It will happen as rapidly as his decisions are announced and will activate a diverse cross-section of affected segments of the population. 
The massive protests started with a Facebook post, which spread thanks to a long-running, on-the-ground network of immigrant families and their allies, and ended with a federal judge's ruling that struck the heart of Trump's deeply contentious policy of "America First." 
By 9:20 a.m. Saturday, Jacki Esposito, an attorney who works as a policy consultant based in New York City for immigration nonprofit organizations, knew that the order was already in effect at airports across the country, where travelers from banned countries were already being detained by U.S. Customs and Border Protection agents. 
So, she posted on Facebook: "We should all be at airports across the country protesting right now."
Seventeen minutes later, an organizer named Molly Sandley responded. "Anyone organizing? I'll help," she wrote.
Sandley has a wide network of connections in New York City and beyond. She'd worked on the Obama campaign in 2008, and spent the weeks before Trump's inauguration organizing buses from New York City to the Women's March on Washington.
"Don't ever invite Molly to your party," Esposito joked in a phone call to Mic later on. "Because she'll bring 1,000 of her friends."
And that's exactly what she did. Sandley's first step was to contact networks of immigrant rights' groups who've been working for years — and in some cases decades — to protect people from deportation. Those groups are led by Camille Mackler and Thanu Yakupitiyage of the New York Immigration Coalition and Yasmine Farhang, an attorney with Make the Road New York. Both groups are two of New York City's largest immigrant rights networks and had already been trying to untangle the web of implications from Trump's order. They'd received calls that detentions had begun as early as 10 p.m. Friday night at JFK's international terminal.
"We didn't know where the protest could be held, but figured to put out the call first and figure out the details once [we] got to the airport and had a better sense of what was happening," Sandley told Mic. "So the texts just started going out."
There were texts to Women's March organizers in New York City, who were still on a high from their historic action the week before in D.C. and posted about it on their group Facebook page, which had 25,000* likes. Another Facebook page, called #getOrganizedBK, which boasts 4,000 members, put out a call to show up at the airport.
Esposito and Sandley were also in touch through text messages and phone calls with Tara Raghuveer, who works as deputy director for the National Partnership of New Americans, which represents the country's 37 largest regional and refugee rights organizations. That network had already been organizing protests and rallies in the week leading up to Trump's executive order and had organized five actions in a row leading up to that point. There was a rally in New York City's Washington Square Park on Thursday, and an interfaith prayer rally at noon on Friday, hours before Trump's executive order. 
"That type of stuff in this context, that's the bread and butter of what our member organizations across the country and in New York City do," Raghuveer said. "The organizations in our network are used to being in the position of responding quickly to these types of policies."
By 10:30 a.m. on Saturday, Esposito, Mackler, Raghuveer and Sandley were all in cars heading from Brooklyn toward JFK in the far reaches of Queens. They arrived at the airport's Terminal 4 to find a gaggle of reporters, who had been tipped off that something was brewing at the nation's busiest airport, as well as armored vehicles parked outside. They'd heard that 54 people were being detained inside.
They also saw U.S. representatives Nydia Velasquez and Jerrold Nadler, who'd been told by organizers that people were already being detained at the airport. Both representatives began talking with U.S. Customs and Border Protection agents to secure detainees' releases. 
While Velasquez and Nadler spoke with immigration agents, the cadre of lawyers, including Esposito, began chanting "No ban! No ban! No ban!" 
Meanwhile, word was spreading across the country. In Boston, Rodrigo Alonzo Saavedra of the group Movimento Cosecha watched what was happening in New York City unfold on Facebook, Instagram and Twitter. His group had already planned an open house event at their offices in Dorchester, Massachusetts, but decided to cancel it and plan what he called a "solidarity action" at Boston's Logan International Airport, where at least six people had been detained after arriving from Iran. He and his brother Carlos created a Facebook event and began handing out flyers before arriving at the airport to find 30 people who'd gotten word of the action. 
And so it went. As the crowd swelled at JFK throughout the day, the same scene repeated itself at airports across the country.
New York City:
Chicago:
Washington, D.C.:
Portland:
Los Angeles:
San Francisco:
Atlanta:
Detroit:
At the center of it all were immigrants and their families, who were directing organizers to the terminals at which their loved ones were being detained and leading protests themselves.
Marwa Assakas is an immigrant from Yemen who lives in New York City. On Saturday, he got word that his nephew Mohammed had been detained at JFK. He arrived at the airport and spoke with organizers until his nephew was released. Then he went back to the airport to protest on Saturday.
"The more people who come to the airport, the more happens," he told Mic. 
Volker Neumann, a permanent U.S. resident from Germany who lives in San Francisco, saw a Facebook page broadcasting a protest at the San Francisco International Airport that afternoon and decided to join. 
"As a permanent resident myself, the idea of going back to my home country for, say, a funeral of my grandma who just passed in December, and then being turned away from my flight back home for 90, 120 days while my job, my cat, my apartment, my life are here in San Francisco was a preposterous thought," he said. "I was livid."
So he showed up at the airport with a sign that read, "Am I next?" and didn't leave for 11 hours.
In total, organizers estimate that 5,000 people showed up at JFK on Saturday. At Raleigh-Durham, nearly 2,000 people showed up. In Boston, just over hundreds of people protested, organizers said.
And the pressure seems to have worked. At JFK, all but 10 detainees were released by Sunday, according to the Hill. And by then, a federal judge in New York issued an emergency ruling that temporarily stopped Trump's order. 
On Sunday, nearly 30,000 people rallied in Battery Park in New York City for a second day of protests against Trump's travel ban. 
For Raghuveer, of the National Partnership of New Americans, the massive protests were what's become the new normal in Trump's America. His actions inspire reactions that reverberate across the country. 
"I think it was a combination of we're all in the family of these organizations who are talking all the time anyway, and there was a huge social media presence with a huge story to tell about how people had been detained the night before," she said of Saturday's protests. "All of that contributed to the rapid response across the country."
Correction: Jan. 30, 2017