Who is Stephen Miller? Trump's policy chief is likely architect of controversial immigration ban.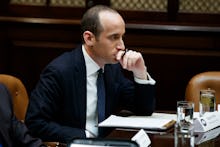 Stephen Miller, a senior adviser to Donald Trump, was reportedly one of the driving forces behind the president's controversial executive order that banned most citizens from seven predominantly Muslim countries and temporarily banned all refugees from entering the United States.
On CBS This Morning Monday, Miller defended the action — which has led to widespread protests, criticism from Democrats and some Republicans and legal challenges — as "efficient, orderly, enormously successful."
"If nobody is disagreeing with what you're doing, then you're probably not doing anything that really matters in the scheme of things," Miller said. 
The roll-out of the new restrictions was not "orderly"; confusion and chaos reigned over the weekend as the order went into effect. Commentator Joe Scarborough said on Monday that Miller was on a "power trip" and criticized Miller for pushing the order through "without going through the regular agency process."
"It was Stephen Miller sitting in the White House saying, 'We're not going to go to the other agencies. We're not going to talk to the lawyers. We're going to do this all alone,'" Scarborough said.
Who is Stephen Miller?
He worked for Jeff Sessions
Before joining the Trump campaign, Miller, 31, was the communications director for attorney general nominee Jeff Sessions. Miller helped the Alabama senator craft a narrative that painted immigrants and refugees — particularly Muslims — as a threat to Americans' safety and jobs, and helped defeat the Gang of Eight's plan for comprehensive immigration reform, which included a path to citizenship.
He also worked as an aide to far-right former Rep. Michele Bachmann.
When Trump announced Miller as his senior adviser, Ann Coulter tweeted that she was "IN HEAVEN."
He rose to prominence during the Duke lacrosse scandal
In 2006, three white student athletes at Duke University were indicted after being falsely accused of raping an African-American woman the team had hired as a stripper. Miller staunchly defended the accused students in columns for the Duke Chronicle and in appearances on The O'Reilly Factor and The Nancy Grace Show. 
He once said Maya Angelou was full of "racial paranoia"
A 2016 profile by Julia Ioffe in Politico demonstrated Miller's long history of far-right, statements regarding race, gender and multiculturalism.
As a student at Duke University, Miller published columns in the school newspaper in which he blamed 9/11 on "politically correct domestic security," wrote that "worshipping at the altar of multiculturalism" was undermining American values and characterized Presidential Medal of Freedom-awarded poet Maya Angelou as being full of "racial paranoia." He also wrote that men and women are already equal, rendering feminism unnecessary, and that there is still a place for gender roles. "I simply wouldn't feel comfortable hiring a full-time male babysitter or driving down the street and seeing a group of women carrying heavy steel pillars to a construction site," he wrote.
"It's not chauvinism," Miller concluded. "It's chivalry."
He's linked to Richard Spencer
Though Miller is Jewish, he is reportedly an ally of white nationalist Richard Spencer. They were both members of the Duke Conservative Union in college, and Spencer told Mother Jones that Miller had helped him put on an on-campus immigration debate that featured white nationalist Peter Brimelow. Spencer claimed to have known Miller well at Duke, but said he was "glad no one's talked about this, because I don't want to harm Trump."
Miller has denied being associated with Spencer and said he repudiates the so-called "alt-right" leader's views. Nevertheless, Spencer praised Miller's hiring as a senior adviser to the president.
"[Miller] is a highly competent and tough individual," Spencer told Mother Jones. "So I have no doubt that he will do a great job."
He penned Trump's inauguration address
Though he posted a ridiculous image of himself writing his inauguration address, Trump delegated the task to Miller, whom Trump aide Jason Miller described as a "machine" who can "knock out three speeches in a day."
In the nationalistic inauguration address on Jan. 20, Trump railed against the U.S. political establishment, vowed to end "American carnage" and promised a "new national pride."
"We defended other nation's borders while refusing to defend our own," Trump said. "Protection will lead to great prosperity and strength... America will start winning again, winning like never before."