Missy Elliott best music videos ranked: from 1997's visionary "Rain" to her ecstatic "WTF"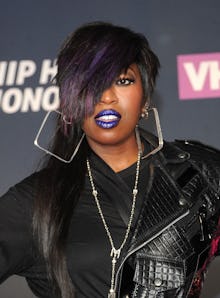 Twenty years ago this June, Missy Elliott dropped her very first music video for "The Rain (Supa Dupa Fly)," directed by the soon-to-be legendary Hype Williams. In four minutes, with a couple of fisheye lenses, a couple of wild color-corrected sets and an inflatable garbage bag jumpsuit in tow, the duo essentially undid everything viewers knew about what a hip-hop video could be. 
Over the next two decades, she's worked to recreate the form in her own image. She's authored some of the flyest choreography and the most iconic looks. Her every release is an event, though some have hit harder than others. For example, the level of conversation surrounding her latest, "I'm Better," paled in comparison to the jaw-dropping, time-stopping style of her previous "WTF (Where They From)" in 2015. But few have managed to bounce back from a dud with the same elasticity as Elliott, as the list below proves.
To celebrate Elliott's imminent return and her forthcoming seventh album, we've watched and ranked every Missy Elliott video ever released. We've included each video's director, starting first with the ones that give us slight tremors and moving down to her most earth-shattering videos.
19. "Take Away/4 My People"
Director: Dave Myers
Year: 2001
Dedicated to recently deceased Aaliyah "who brought life to my music," the video's title card reads, Elliott and Ginuwine sing and slow dance out a slow ballad in an asian fantasy realm. Halfway through, it seems Elliott tires of the somber mood and breaks into "4 My People," with Elliott dedicating the frantic party track to "my American people" and her "mother fuckin' club heads." It's an odd juxtaposition, but maybe that's how Aaliyah would've wanted it?
18. "All n My Grill"
Director: Hype Williams
Year: 1999
Even a brief Big Boi feature doesn't do much to liven up Missy Elliott's "All n My Grill." Her pink two-piece jumpsuit and dancer's yellow overcoats feel down right conservative compared to some of the other game-changing looks she's offered.
17. "Teary Eyed"
Directors: Antti J, Missy Elliott
Year: 2005
Missy Elliott has a rare co-directing credit on "Teary Eyed" for one of her more narrative videos. It tells the story of a jealous Elliott slicing the tires of a two-timing lover and causing a heart-wrenching car crash. Elliott eventually sneaks into the hospital to finish the job. There are some fun shots of Elliott swinging around from the ceiling in a black leather straight jacket, but not nearly enough dancing or experimental cinematography to compete with some of her greatest videos.
16. "We Run This"
Director: Dave Myers
Year: 2006
"We Run This" shows Missy Elliott at her sportiest. It offers a vision of what a Missy Elliott-led marching band would look like, if she decided to go that route — or what she'd do for a balance beam, horizontal bar or floor routines if she took to gymnastics over rapping.
15. "Hot Boyz"
Director: Hype Williams
Year: 1999
The "Hot Boyz" video could use an epilepsy warning. Elliott's Nas and Eve collaboration features a Michael Bay-level of pyrotechnics and hyperactive lighting displays. The choreography is excellent, as always, at least what one can make out through the blinding white flashes.
14. "Hit Em wit da Hee"
Director: Paul Hunter
Year: 1998
A mash-up of Michael Jackson's "Smooth Criminal" video meets Game of the Thrones' obsession with medieval magic, "Hit Em Wit da hee" is astraightforward, but fun Missy Elliott-exclusive fantasy realm. The key shot: Elliott riding a fire-breathing horse dressed in draping chainmail.
13. "Beep Me 911"
Director: Earle Sebastian
Year: 1998
On "Beep Me 911" Elliott seemingly offers another critique of hip-hop's female objectification. All the dancers in the video sport Barbie doll joints and dance for a Monopoly-man-esque big wig. Elliott whips him into shape in the end, somewhat literally.
12. "Lose Control"
Director: Dave Meyers
Year: 2005
For being one of Elliott's hands-down best songs, it's surprisingly one of her least stunning videos. The old-timey honky tonk middle section features some of the most acrobatic partner dancing a hip-hop video has ever seen, but beyond that it's fairly straightforward, and an inexplicable Tommy Lee cameo during the track's outro ends the piece on an odd, uncertain note.
11. "I'm Really Hot"
Director: Bryan Barber
Year: 2004
"I'm Really Hot" is a dance battle for the ages. Elliott's crew challenges a crew of Asian gangsters in a steamy warehouse. The choreography is fire, but it doesn't have the breadth of vision as some of Elliott's other work.
10. "Sock It 2 Me"
Director: Hype Williams 
Year: 1997
Only the mind of Missy Elliott could find a way to turn a song about getting steamy into an intergalactic space battle with robotic lizard people. The overly awkward running and comical metallic screeching gets a little tedious towards the end, but the way it seeks to turn a basic love song into an unforgettable video deserves some praise. Also, doesn't her chest plate look an awful lot like the Gmail logo? Funny huh?
9. "She's a Bitch"
Director: Hype Williams
Year: 1999
Some of Missy Elliott's most career-defining looks came from the "She's a Bitch" video, including her leather-bound rhinestone cowboy and the bald-headed, Spiderman sunglasses-wearing variation. It works with a darker palette than we usually see from Elliott, but it fits the song's mission: reclaiming the word "bitch" for the women of hip-hop.
8. "Pass That Dutch"
Director: Dave Meyers
Year: 2003
A tribute to all of hip-hop's fallen icons, Elliott sits at a table writing out stream-of-consciousness verses, but like "Take Away," the somber mood doesn't last for long. Elliott dozes off and dreams up a cornfield dance party, where a UFO lights up a stage for Elliott to break out a hip-hop infused Irish dance step.
7. "I'm Better"
Director: Dave Meyers
Year: 2017
Compared to "WTF (Where They From)," Missy's 2015 comeback, "I'm Better" is a little uninspired. It can be divided into three clean parts: one verse in a laser-lit club, one on the floor of an Olympic swimming pool and a third combining the two settings. There are still some very creative sequences, including one dance based entirely around exercise balls.
6. "Get Ur Freak On"
Director: Dave Meyers
Year: 2001
Elliott started to take a more subtle approach to stretching the boundaries of reality on her first video with director Dave Meyers in 2001's "Get Ur Freak On." The video takes place in a grimy, overgrown sewer, and instead of hitting us with a sci-fi blast to the face, Elliott scatters surreal moments throughout. In one short dance break, Elliott's neck stretches out like Mr. Fantastic until her face is up against the camera, while her body dances on behind her. In another, she spits a loogie into a male dancer's waiting mouth like she's a spitty Deadshot.
5. "One Minute Man"
Director: Dave Meyer
Year: 2001
Welcome to Missy Elliott's "Get Ur Freak On" hotel, where you pay by the minute. The video puts selfish, skill-less lovers on blast, with Elliott inviting Ludacris and a bevy of bell hop dancers to show the world how to work it right. Fun fact: this is the first Missy Elliott music video in which she lifts her head completely off her shoulders, to dance unencumbered by thoughts or cares. It would not be the last. 
4. "Gossip Folks"
Director: Dave Meyers
Year: 2003
Elliott takes her viewer back to school in "Gossip Folks." Following "Work It," the video is the second to feature Alyson Stoner, the young girl who became Missy Elliott's right hand dancer. Stoner went on to become a pretty significant name in the dance world in her own right. 
3. "WTF (Where They From)"
Director: Dave Meyers
Year: 2015
Missy's epic comeback, "WTF (Where They From)" comes nearly seven years after her last video "Ching-a-Ling/Shake Your Pom Pom," and showcases some of her most adventurous costuming and choreography to date: the living disco-ball look, the two-face icon and the brief marionette dance break. Missy Elliott even manages to make hoverboards look cool.
2. "Work It"
Directors: Dave Meyers and Missy Elliott
Year: 2002
Iconic. Nearly every shot is a legendary look at Missy Elliott's disorienting hip-hop Alice in Wonderland style. Missy dances through an abandoned playground, uber mod barber shops, lays on a couch while a knock off Prince tongues down her aura. A slave slaps his master black; Missy cuts a record while her face is covered in bees. It's wild-card Elliott at her finest.
1. "The Rain (Supa Dupa Fly)"
Director: Hype Williams
Year: 1997
The video that started it all, "The Rain (Supa Dupa Fly)" still feels like it's in a class of its own 20 years later. It's still a slap in the face to all the standards that dictate that music videos from female artists have to be basically peep shows with a little group choreography or story spliced in. Elliott dressed in a massive garbage bag and filtered her shots through a fisheye lens to make herself even more round, and still came off as the flyest chick in hip-hop.