Why Steve Bannon's new role in the Trump administration matters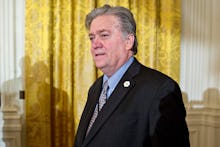 Steve Bannon rose to prominence as cofounder of Breitbart News, the right-wing outlet run by Andrew Breitbart until his death in 2012. Bannon then became executive chair of the far-right outlet's parent company.
After Bannon's elevation, the website's rhetoric became increasingly inflammatory. Breitbart writers called Bill Kristol a "renegade Jew" and described women on birth control as "unattractive and crazy." 
In August 2016, then-candidate Donald Trump hired Bannon to run his presidential campaign. Bannon took a leave of absence from Breitbart before eventually resigning. The outlet had a history of pro-Trump coverage dating back to at least 2015, when BuzzFeed reported some Breitbart staffers believed Trump was paying the outlet for favorable coverage. Breitbart denied the allegations. 
Bannon's role in the Trump campaign was controversial because of his seeming embrace of the "alt-right," a movement within conservative politics that embraces white nationalism. He once openly referred to Breitbart as a "platform for the alt-right."
People want to #StopPresidentBannon
Trump's later selection of Bannon as chief strategist and senior counselor drew criticism, but his elevation to a permanent position on the National Security Council led to former National Security Adviser Susan Rice calling the president "stone cold crazy" and retweeting a user who called Bannon a "Nazi."
Many fear Bannon's increasing influence will find him making dangerous strategic decisions by using Trump as a puppet. Following the announcement of Bannon's elevated role, the hashtag #StopPresidentBannon began trending on Twitter.
The National Security Council is a yuge deal — and apolitical 
The NSC is where top advisers discuss foreign policy and national security matters with the president. Because they deal with global security matters, these high-level meetings are intended to be free of the politicking found throughout much of the U.S. government.
Sen. John McCain condemned Bannon's involvement on Sunday's Face the Nation:
I am worried about the National Security Council, who are the members of it and who are the permanent members of it. The appointment of Mr. Bannon is something which is a radical departure from any National Security Council in history. It's of concern, this ... reorganization.
Meanwhile, Michael Morell — former acting director of the CIA — blasted the "unprecedented" move during an appearance on CBS This Morning.
Bannon could use the position to advance far-right nationalism
It's been widely reported that it was Bannon's idea — against the wishes of the Department of Homeland Security — to prevent green card holders from restricted countries from re-entering the United States.
Bannon has a long history of anti-immigrant sentiment rooted in his identity as an "economic nationalist," the phrase he uses to distance himself from accusations that he's actually a white supremacist.
However, Bannon's overt racism is well-documented, including the soundbite unearthed by Vox in which he complains about the number of Asians — which he incorrectly states — in the tech industry.
The powerful strategist also has a fondness for the anti-immigrant far-right abroad. The Daily Beast cites his complimentary remarks about Marine Le Pen — the leader of France's racist Front National party — and Breitbart's positive coverage of numerous far-right nationalist parties in a piece about how Bannon's actions show a desire to form a "worldwide ultra-right."
With his appointment to the NSC, Bannon is closer than ever to possessing the tools necessary for spearheading a global coalition of nationalist interests.