The Trump White House will celebrate Black History Month. Here's what to expect.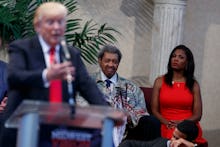 The White House, currently the residence of President Donald J. Trump, will celebrate Black History Month in February, press secretary Sean Spicer has announced.
"The White House is excited to host a series of events, this month, in recognition of [Black History Month]," Spicer said during Tuesday's White House press briefing.
Events will include the U.S. Postal Service's dedication of a "forever" stamp for civil rights icon Dorothy Height, whom Spicer noted was the leader of the National Council of Negro Women and "a true pioneer in the civil rights movement."
During the briefing, Spicer did not elaborate on the full scope of the White House's Black History Month program.
Celebration of Black History Month has been a tradition at the White House for at least the last three presidential administrations. Former President Barack Obama and first lady Michelle Obama hosted a variety of events over their eight years in the White House, including a program that honored the women of the civil rights movement in 2015. Former President George W. Bush featured rhythm and blues legends The Temptations, during a 2008 Black History Month reception attended by the leaders of the NAACP and Rev. Al Sharpton. Former President Bill Clinton issued a proclamation acknowledging the work of poet Paul Laurence Dunbar, abolitionist Sojourner Truth, civil rights leaderJohn Lewis and several others.
Trump has pledged to be a leader who served all Americans, but has alienated many African-Americans with "law and order" rhetoric, painting black communities with a broad brush. Just days before his inauguration, Trump tweeted that civil rights icon Rep. John Lewis, D-Ga., was "all talk" and "no action," in retaliation of the Georgia congressman calling him an illegitimate president and announcing plans to skip the inaugural ceremony.
Lewis was badly beaten by police in 1965 during the historic civil rights march in Selma, Alabama, in pursuit of anti-discriminatory voting rights legislation in the U.S.
It's not clear who is coordinating Black History Month events for the Trump White House. Omarosa Manigault, of NBC's The Apprentice fame, was Trump's director of African-American outreach during his presidential campaign.
In November, Manigault was elevated to the role of assistant to the president and director of communications for the Office of Public Liaison, according to USA Today. She has been pictured at Trump Tower in New York City, appearing to facilitate the president's meetings with football legend and civil rights activist Jim Brown and comedian Steve Harvey.