Exclusive: Black Lives Matter releases statement on Trump's Muslim ban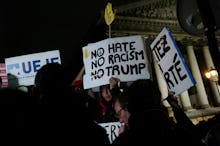 On Tuesday, the Black Lives Matter Global Network issued a statement on President Donald Trump's executive order concerning immigration restrictions and refugee resettlement program suspension. 
The statement, shared exclusively with Mic, follows the mass protests that erupted nationwide Saturday and Sunday. The demonstrations included participation from several chapters of BLM at airports in Los Angeles, Boston and New York City, as well as activists from organizations in the Movement for Black Lives collective.
Mic explored those efforts in an article also published Tuesday.
Below is the statement in its entirety:
The Black Lives Matter Global Network and movement could not exist without our Black Muslim, immigrant and refugee family.
On Friday, Donald Trump signed an executive order severely restricting Muslim immigrants from Iran, Iraq, Syria, Somalia, Sudan, Libya and Yemen — all Muslim-majority countries — from entering the United States. Refugee admissions have been halted for at least 120 days. Green-card holders who happened to be traveling, those with visas or permanent residence granted by the U.S., found themselves detained by TSA agents upon returning to the United States. Legally, they should have been protected, but their nationality, race and religion outweighed their right to safety and protection in America. 
We cannot allow this injustice to continue.
The war against Muslims and refugees, the separation of families, immigrants deported and detained, the turning away of those seeking asylum and the denial of basic human dignity must stop. Within the first week of this new administration, we watched as families were detained for hours without food, some were denied legal counsel and some have been released while many more still await their fate. 
Since the order, thousands of people have gathered at airports across the nation demanding the removal of the ban and the immediate release of detainees. Local Black Lives Matter chapters have been in the fight; we know that an attack on any of us is an attack on all of us. 
Hate has no borders. Because of the Trump administration's actions, Muslims everywhere are at risk, and we must rise in solidarity whenever and wherever necessary. Two days after Trump signed the executive order, a racist white nationalist walked into a mosque in Quebec and killed six Muslims in prayer. We know that these attacks do not live in a vacuum and that our issues are connected. White supremacy and Neo-Nazis are not only being emboldened in America — this is a worldwide growing and strengthening of their ideals and movement. We must be steadfast that this is not normal.
It's been less than two weeks since Trump took office. The impact of his hate-filled presidency has already sent shockwaves throughout the world. Xenophobia and islamophobia cannot be allowed to rage without intervention. Many of us have made the decision not to stand idly by, but rather to show up for the lives of people who are being profiled and pushed out. Rising intolerance means fewer and fewer people are safe. This fight is for all who believe in justice. 
We will fight for the safety of all people.
We will protect people everywhere that we can.
This is going to be a long fight; Black Lives Matter will be there every step of the way.