'Dota 2' Server Status: What to do if 'Dota 2' is down and the game coordinator doesn't work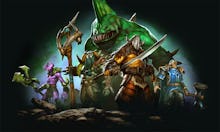 Is Dota 2 down? As popular and generally well-maintained as Dota 2 may be, sometimes the servers go down. When that happens, you won't have much luck getting logged in and using the game coordinator. That's a massive frustration when it comes to completing special events like Dark Moon. You don't have to give up, though. There are a couple of things you can do to make sure the servers are actually down before you head off to make dinner or do something else. Here's what to do if Dota 2's servers go down. 
'Dota 2' Server Status: How to check if 'Dota 2' is down
If you suspect that Dota 2's servers are down, you can verify this yourself via several sources. First, you might want to use Twitter to search for "Dota 2" as a keyword. Chances are if you see other players having issues you might be experiencing them too. Make sure you also check out the official Dota 2 Twitter account for any pertinent announcements, as that's where they will be. 
Your next step is to check sites that actually keep track of servers. One such option is Down Detector, which you can check out to see if the server status is available. You can access the link to the Dota 2 page on Down Detector and you'll be met with a graph that shows off which issues, if any, have been detected over the last 24 hours. There's also a live outage map and a status bar near the top of the page that explains whether or not there are currently any issues. If you want to report your own or check out past issues, you can do that as well. 
Alternatively, you can check Is It Down Right Now? for the game's server status. You'll see a green button with the words "Up" near the top of the page if there are no issues, as well as a status history near the bottom of the page that will display the status of the Dota2 website for the last 10 automatic checks, according to the site.
If you see a negative status on Twitter and both of those sites, chances are there's a server-wide outage. Best to wait it out and play something else in the meantime. It probably won't take that long to get back together!
More video game news, updates, tips and tricks
For more video game news, check out the latest from Mic, including our Resident Evil 7 review roundup, the latest on Niantic's quest to ban Pokémon Go cheaters and a new trailer for the final chapter of Dark Souls 3.