For Black History Month, these cute black kids take Trump's 'alternate facts' to task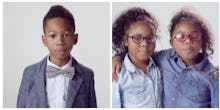 President Donald Trump and his administration may be pushing the idea of "alternative facts" to the American public, but at least these kids aren't buying it. 
In a video by Eunique Jones, creator of a public awareness campaign called "Because of Them, We Can," these adorable little ones are challenging what we learn about black history in the United States. Like many, they're pushing back on the term "alternative facts."
Here are a few things they know are real: black boy joy, black girl magic, black wealth, black support, black excellence and of course, black lives.
"Black history didn't start with slavery," they say. "And it doesn't end with the Obamas, whom we love and miss. No like, really, we really miss you." 
This is the first Black History Month after Barack Obama's presidency. On Wednesday, Trump welcomed several black leaders to a roundtable meeting to celebrate the month and is expected to unveil a "forever" stamp for civil rights leader Dorothy Height.  
But with 28 days to the month, many people on Twitter began to guess how it would unravel in a Trump White House.
February may be the shortest month of the year, but this looks like it might feel a little bit longer.