Super Bowl video games: Forget the big game and play these weird sports games instead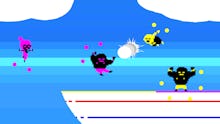 The Super Bowl is coming up this weekend, but if you're feeling a little left out because you're not a football fan, never fear! There are plenty of awesome, weird sports-related video games you can play instead of plopping down on the couch and watching teams you don't really care about tossing around the old pigskin. You can even have your own party at home with some of these super strange and super fun sports games instead. 
Weird Sports Games: Sportsfriends
Sportsfriends is a bizarre 2-4 player sports title with several different minigames players can compete in. Developed by Die Gute Fabrik, it's available for several platforms, including PlayStation 3, PlayStation 4, PC, Mac and Linux. It features surreal games like BaraBariBall, which tasks players with dunking a ball straight into opposing players' water and thwarting the other side.
There's also Johann Sebastian Joust, which has each player hold a PlayStation Move controller, attempting to keep it still as others try to get them to move. Super Pole Riders and Hokra round out the minigame selection, which encourages players to get up off the couch and thrash around the living room. It's one of the most hilarious times you'll have with friends, especially if you need a Super Bowl surrogate. 
Weird Sports Games: Jerry Rice and Nitus' Dog Football
Jerry Rice is a football player, but his dog Nitus isn't. That's okay because, for some reason, someone thought Jerry Rice and Nitus' Dog Football for Wii made sense. A human quarterback and a bunch of cuddly dogs team up for the weirdest waggly title since the Puppy Bowl debuted on TV. It's been long-since relegated to bargain bin status but is worth picking up if nothing else for its ridiculous premise.
Each of the in-game canine companions is paired with a human counterpart, and play is split up into offense and defense. You can choose from three types of plays and use the Wii remote to waggle around a bone cursor so your dogs run down the field. It's rudimentary, but there's a certain charm to it, especially since it features dogs and football. And if you don't like or understand football, chances are you still like dogs, right?
Weird Sports Games: Mutant Football League
A spiritual successor to 1993's Genesis hit Mutant League Football, Mutant Football League is a much more polished take on the game via Steam Early Access and Xbox One, PlayStation 4 and mobile devices. It's an arcade-style football title where monsters and mutants take the field to essentially fight each other to the death. We're talking one of the most brutal football games you've ever seen, complete with chainsaws, gory attacks and more. 
There are over 20 mutant and monster teams to choose from, including aliens, droids, superhumans and more, and if you don't happen to have enough friends over (remember, you're not throwing a Super Bowl party!) you can simply hop online and play. If you ever wanted to see how football could be spiced up with hand grenades, battle axes, blood, brass knuckles and more, this is the game for you. 
Weird Sports Games: Diabolical Pitch
Okay, so you've shelved your Kinect for Xbox One and Xbox 360 and you don't know where it is. But trust me on this, Diabolical Pitch is worth digging it out again. This baseball action game from Grasshopper Manufacture and Suda51 may be one of the most ridiculous baseball games of all time. Following a protagonist who's lost his arm and had it replaced with a bionic one, it's your job to traverse a demonic amusement park and fight off enemies with, well, baseball pitches. 
It's the most bizarre time you may ever have with baseball, as you throw balls as fast as you can at the enemies that are advancing on you. Even though you're not technically playing a sport, it's a good workout and an uproarious good time if you're playing with friends. If you can dig up $10 and feel like putting together your Kinect system again, it's worth trying out. 
Weird Sports Games: Rocket League
As awesome as Rocket League may be, you've got to admit it's a strange sport. Luckily, in this case, that makes it even cooler to play in lieu of watching the Super Bowl. Psyonix's vehicular soccer game is available on PC, PlayStation 4, Xbox One, Mac and Linux, and it's a veritable worldwide phenomenon. 
The sport is essentially soccer with rocket-powered cars. If you've never played it before, consider this Super Bowl weekend to be your invitation to give it a try. If you don't, you're missing out, and in a big way. 
More gaming new and rumors
Check out Mic for more news from the world of gaming, including an incredible Overwatch fan zine, the possibility of Skate 4, RBI Baseball's newest cover athlete and how to get started playing Fire Emblem Heroes.