5 easy ways to save money, even if you are living paycheck to paycheck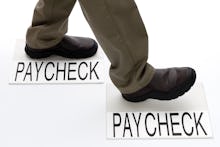 You aren't alone in the daily struggle to make financial ends meet.
Nearly 75% of Americans today are living paycheck to paycheck, according to a 2016 study by CareerBuilder. The career resource website found 66% of respondents said they struggle to make ends meet and 50% work more than one job to meet the financial demands of daily life.
Debt is also preventing many workers from getting ahead. The CareerBuilder report found 55% of survey respondents said they felt they might never climb out of debt — with 64% saddled with credit card debt, 47% paying for auto loans and 31% facing student loans.
Although survey participants were not polled about what they thought would help them save cash, Ladan Nikravan, career advisor at CareerBuilder offered advice in an email to Mic.
"Whether you're 22, and looking ahead to your post-college years of independence, or 52 and moving on from past mistakes," she said, "there are some crucial steps to take if you want to be confident in and comfortable with the way you manage your finances."
Nikravan suggests staying true to your budget, saving for emergencies, developing a plan to pay down and consolidate debt, learning how to manage your retirement plan and finding extra work.
Digging deep to eliminate or reduce small expenses in life can also add up, Kelley Long, certified financial planner at Financial Finesse, said by phone.
"The case has been made for eliminating the whole latte thing or bring your lunch to work," Long explained, "but what it really takes is evaluating what you spend and looking for ways to save, even $25 a paycheck."
Does even $25 sound like mission impossible?
Here are five ways you can save money without missing the extra cash.
Have extra money automatically transferred from your checking to a savings accounts or another interest-earning account, Long says: "When I first started saving money, I began with $25 a paycheck and had it automatically transferred through payroll direct deposit. I honestly didn't miss the money and before I knew it, I saved $150 three months later."
Even if you can spare literally only $5 per paycheck, that's an extra $130 at the end of the year that you didn't have before.
Transferred money could also go toward an emergency fund, which Nikravan says is always important in case you face the unexpected.
"That means you have three to six months of expenses set aside in an emergency fund in case you lose your job, are unable to work, your heat pump goes out, your car needs repairing, you break a leg," she said. "Anything. Emergencies happen and you need to save for them."
2. Make a budget (and don't roll your eyes)
Although it sounds like basic advice, both Nikravan and Long insist a budget will help you identify where you can reduce, which will ultimately get you on the right track.
"There are different schools of thought on the 'best ways' to budget, but in general, it helps to track your spending, even if you're not categorizing every transaction," Nikravan explains. "If you don't know where your money is going, chances are you'll lose track and end up short when it comes time to pay bills."
Track expenses for a month, Long advises: "It's worth trying for 30 days, even if it doesn't work out" in the end, she says. "It's a valuable exercise because the area where most people fail with budgeting is by not accounting for the 'one off' events, such as paying for a friend's wedding or bachelorette party."
If you follow your spending for a month and see where you have financial diversions, you can start anticipating those expenses: "Maybe you bring your lunch to work one day a week, which would [save about] $15 a week in Chicago," Long says. "That money could automatically be swept into another account, so you have it saved and can still pay your bills."
For more advice on building and sticking to a budget, check out Mic's 5-minute guide to budgeting.
3. Negotiate your contracts
Do you really need to have an unlimited data plan or could you trim some minutes — which might add up to savings?
"Many cell phone providers will tell you how you can save money without going over your minutes," Long says. "Also, if you are paying for premium cable you could just pay for the times when you want to watch a specific show and then cancel it and just watch shows on Netflix or Hulu. We pay for cable during the football season, but when season is over we cancel it and end up saving a few hundred dollars."
You can also call your creditors and ask for lower interest rates, special payment plans and other perks, Nikravan recommends.
A little talk can go a long way.
4. Get "free money" from your employer
Even though you may be saddled with student loan or other debt, Long says you should never pass up a 401(k) plan that has a match, basically free money.
In an article she contributed to Forbes, she points out that even $50 per paycheck could add up to a six-figure balance in the long run.
Investigate and ask questions about the plan offered at your office, Nikravan advises: "Due to the growth of retirement savings plans such as 401(k) and 403(b) plans, workers are now responsible for managing their investments."
"Most workers lack basic financial knowledge but need to become experts about work benefits," she points out.
So set up a conversation with your HR point person to learn more about your workplace perks: You might be surprised at what you learn.
5. Get your side hustle on
Many workers who live paycheck to paycheck have second and even third jobs but that extra money can be the difference between struggling and saving.
"At best, they will encourage your hobbies and perhaps fuel a second career," Nikravan says. "If you are adept at graphic design or play an instrument, seek out opportunities that allow you to hone these skills and increase your network to get paid for your abilities."
"I used to pet-sit, which was pretty easy money," Long said.
But there are even more unexpected gig jobs out there, Long said: "I interviewed a woman who gathered items she no longer needed, sold them on eBay and was able to pay down her credit cards with the cash."
For more ideas, check out Mic's guide to making hundreds of extra dollars a month in side jobs.
Sign up for The Payoff — your weekly crash course on how to live your best financial life. Additionally, for all your burning money questions, check out Mic's credit, savings, career, investing and health care hubs for more information — that pays off.