Samantha Bee compares Donald Trump to Paris Geller of 'Gilmore Girls' after controversial Muslim ban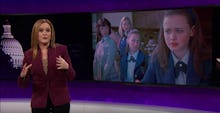 On Wednesday's episode of Full Frontal, host Samantha Bee likened the White House's statement on the firing of acting Attorney General Sally Yates to The Force Awakens' meme-able "Traitor!" shout from Kylo Ren. But that's not the only pop culture comparison Bee made to the Trump administration. Turns out, President Donald Trump seems to have a lot in common with Paris Geller of Gilmore Girls, and it comes down to loyalty. 
"Remember on Gilmore Girls when Paris Geller staffed the school newspaper with her most loyal friends with no regard for talent level?" Bee said. "It's like that, but with the leader of the free world and nukes." 
The Atlantic cited some of the many ways Rory Gilmore was actually a terrible journalist back when Netflix rebooted the series, so Bee's got a point. More concerning, of course, is Trump's propensity to fill his Cabinet with people who agree with him. Most of this loyalty is through money, Bee noted, though she said Ben Carson must be on the administration so that Trump could have a "black friend and plausible deniability for whatever he's up to with Jeff Sessions."
To that end, Bee also cited statements from the likes of White House press secretary Sean Spicer, following the controversial immigration ban, for people to "get with the program or they can go." As Bee concluded, this means it's up to regular people to fight back against the new administration, such as the swarm of protesters at airports over the weekend fighting against the Muslim ban — even though that puts everyone at risk of being on Trump's "enemies list."  
"Please, Trump supporters ... protesters are not your enemy," she said. "I promise, if our tantrum-prone tyrant ever locks you out of America, they will march for you too. Maybe reluctantly, but they will do it, and a lot of American Muslims will too." 
Watch the segment below: