'NBA Live 18' Release Date: Fall launch is a bad sign for EA's troubled hoops franchise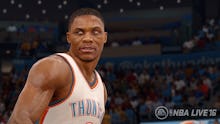 NBA Live 18 is still going to be released this year, just a lot later than originally thought. That's going to create an uphill battle for the embattled hoops series.
After plans were scrapped for NBA Live 17 to release in the fall of 2016, it was slated for an early 2017 release date. However, EA Sports CEO Andrew Wilson announced during an earnings call Tuesday that the game — now called NBA Live 18 — will instead be released in the fall of 2017.
Fall release dates for NBA games are customary, but there are a few reasons this might not bode well for the NBA Live franchise.
NBA Live 18 Release Date: Delays are a bad look
There are some exceptions, but a delayed video-game release is normally a cause for concern. That's especially the case in the genre of sports gaming. More specifically, delays have been the precursor to inferior NBA Live products.
Back in 2010, EA sought to reinvent its hoops franchise. They even temporarily rebranded it as NBA Elite 11. Take a look at that title in this video:
NBA Elite 11 was delayed before being released as a demo in September 2010. Then, in November 2010, the game was canceled.
Canceling an entire release in the world of sports gaming is the equivalent to Major League Baseball not having a World Series in 1994. It takes a while for fans to get over the disappointment. There was no NBA Live 12, and NBA Live 13 was announced and canceled.
The series returned with NBA Live 14 in 2013 but was met with dreadfully poor reviews. It received a 43 Metacritic score on PlayStation 4. NBA Live 15 and 16 showed some progress, but not enough to become major players in the market.
Inevitably, many fans will view this latest delay with some pessimism. 
NBA Live 18 Release Date: Toe-to-toe with the NBA 2K juggernaut
The appealing aspect of an early 2017 release was the possibility of attracting the attention and dollars of virtual hoops fans in a period that's usually devoid of sports video-game releases. Aside from the very popular and outstanding MLB The Show series, no annual sports video-game title typically releases before Madden in August. 
More importantly, an early-year release would allow NBA Live to avoid a head-to-head matchup and comparison to NBA 2K, its primary competitor and king of the virtual hardwood.
With a release around February or March, NBA Live would have secured the buy-in of its hardcore audience and, perhaps, some curious NBA 2K fans.
Faced with the choice of buying one basketball video game this fall, it's hard to imagine we'll see a ton of people choosing NBA Live 18 over NBA 2K18 — especially amid delays and underwhelming products from the past. 
NBA Live 18 Release Date: There's still hope
Perhaps the additional development time will allow NBA Live 18 to become something truly special. Maybe the game will be reinvented completely with a fully fleshed-out feature set that eliminates past bugs. 
Fans of the series and those thirsty for NBA 2K to receive some real competition will have their fingers crossed.
More sports gaming news and updates
Are you a sports gamer? Check out more content from Mic, including a tutorial on the creation of Charles Barkley as a MyPlayer, a guide to unlocking almost all the badges in NBA 2K17, some Ultimate Team predictions for new signees in the MLS, Madden 17 Ultimate Team NFL Playoff updates and WWE 2K17 DLC news.