Nintendo Switch 'Snake Pass' Game: Gameplay, release date and everything to expect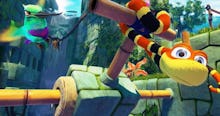 Sumo Digital, the company behind the Sonic & All-Stars Racing Transformed series, is bringing its puzzle platformer Snake Pass to the Nintendo Switch. Though it wasn't announced as a launch title for the Switch, Sumo Digital has confirmed it will be coming "soon" for the console and handheld hybrid, so we can at least surmise it will be available this year.
It will act as another colorful option to choose from when the Switch launches on March 3. Before you set aside some cash for the upcoming digital-only release, here's what you can expect from it. 
Nintendo Switch Snake Pass Game: Gameplay and release date info
The game is also launching on Xbox One, PlayStation 4, and PC at some point in 2017, and Sony has released a video of the game in action on the PlayStation 4. It offers a quick overview, but if you want more Polygon has a whopping 17 minutes of video to show off how "physics-based snake platforming" actually works.
Players will control Noodle the snake as he slithers across various colorful locales, including a section of verdant greenery and stones with obstacles scattered throughout the path. Noodle obviously moves a lot different than a character with legs would, so you'll have to adapt to snakelike controls as you make your way around each level. There's also a small hummingbird character who offers assistance, which may remind you of games like Banjo-Kazooie or the upcoming Yooka-Laylee. 
You can get your hands on Snake Pass at some point in 2017. We'll keep you updated when we learn more about the game and a possible firm release date. In the meantime, make sure you have your Nintendo Switch preordered for March 3. 
More Nintendo Switch news
Check out more details on the Nintendo Switch, including information on the console's price, release date, pre-orders and battery life. If you're interested in the Nintendo Switch's games, here's info on the new Super Mario Odyssey game, Legend of Zelda: Breath of the Wild, Splatoon 2, Xenoblade Chronicles 2, 1-2-Switch and the goofy boxing game Arms.