Uber drivers want their CEO to step down from Trump's advisory council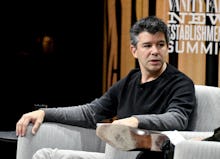 Uber CEO Travis Kalanick joined President Donald Trump's Strategic and Policy Forum, which means he will "frequently" share "specific experience and knowledge" with Trump as he shapes his economic agenda. Following Trump's executive order banning the entry of visa holders from seven Muslim-majority countries to the United States, Uber drivers —  nine out of 10 of whom are immigrants, according to the Independent Drivers Guild — have a message for Kalanick: Step down.
The IDG launched a petition urging Kalanick to exit Trump's advisory council. It also asked Uber to donate to nonprofit organizations that are fighting the ban, publicly declare it will not punish drivers protesting the ban and show its support by allowing users to tip through the app.
"I came to this country as a refugee to make a better life for myself and my family," Brooklyn, New York-based Uber driver Ibrahim Ali, who came to the United States from Sudan, said, according to a press release. 
My parents are back home in Sudan and I support them with my earnings from driving. The ban means I cannot visit my parents and they cannot travel to the United States to see us or to receive advanced medical care. For families like mine, every dollar goes towards either my brother's education here in the U.S. or to support my family abroad.
Ibraheem Ibraheem, another Brooklyn-based Uber driver who left Sudan in 1996, said in a press release that many of the drivers send money back to their families and try to bring them to the United States "out of horrible conditions."
"That's why it's a bit more complicated than 'delete Uber,'" he said, referring to the campaign urging users to delete the app as a way to protest against Kalanick's willingness to work alongside Trump. 
Uber must do better, but at least they meet with us when no one else will. Lyft just cut driver pay, they refuse to meet with us and their investor is a big Trump donor and adviser, so they are not better. Neither is the taxi industry.
Ibraheem may be referring to Peter Thiel, an investor in Lyft who has donated $1.25 million to Trump's campaign and now sits on his transition team. He may also be referring to Carl Icahn, another major investor in Lyft who serves as a regulatory adviser to Trump.
According to the petition, 90% of IDG drivers have said that Trump's ban will have a direct effect on either them or their family and friends. The overriding sentiment of the petition is for Uber to show — not tell — its drivers and its users that it opposes the ban. 
Uber is one of a number of tech companies that penned an open letter to Trump denouncing the immigration ban, signaling its potential detriment to its business. But as the petition suggests, an open letter isn't enough to assuage drivers' fears and frustrations. Drivers want Kalanick to step down from Trump's forum and throw support behind Uber's employees and organizations fighting the ban. Simply put: Be better.