#DressLikeAWoman is the internet's response to Trump's dress code report for female staffers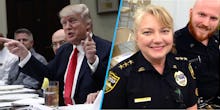 Donald Trump loves being surrounded by women in dresses — and we're not talking about the contestants in the Miss Universe pageant. 
On Thursday, unnamed sources told news site Axios that Trump's focus on optics and wardrobe compelled him to give his female staffers a note: They need to "dress like women." According to the report, "women who worked in Trump's campaign field offices — folks who spend more time knocking on doors than attending glitzy events — felt pressure to wear dresses to impress Trump."
Women who heard reports of Trump's sartorial demands were not exactly thrilled with Trump's desire to make womenswear great again and they clapped back at POTUS with the hashtag #DressLikeAWoman. 
Some women shared images of themselves. 
Some women shared images of women in their family. 
And then, some shared images of famous women who either broke barriers in uniform or stepped outside of prescribed gender norms with their outfits.
Though Trump has a team of women around him — his wife, Melania Trump, his daughter, Ivanka Trump and Kellyanne Conway all come to mind — there are many women who continue to find his comments condoning sexual assault completely unacceptable. 
Anyone looking for evidence that women won't stand for Trump's misogyny can just peep the size of the crowds that attended the Women's March on Washington, D.C., on inauguration weekend. Crowd scientists said the crowds dwarfed Trump's inauguration crowds.