'Fire Emblem Heroes' Keeps Crashing: Error Code 803-003 explained and how to get past it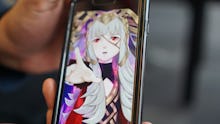 Fire Emblem Heroes launched on both iOS and Android devices, and no doubt tons of players are trying to get in on the latest entry in the popular series. So it shouldn't come as a surprise if servers are a little slow and the game may keep crashing in some cases. If you've noticed any errors popping up as the game completes its several required downloads, know you aren't the only one.
There's a specific error floating around. Players have reported the error code "803-003," usually accompanied by the message: "A communications error has occurred." The game will also crash in some instances, forcing you to reopen it and try again. Here's what to expect if you receive error code 803-003 and what you can do to try to bypass it. 
Fire Emblem Heroes keeps crashing: What to do if you receive Error Code 803-003
If you download Fire Emblem Heroes and receive the error message 803-003 while downloading content or using the app at any time, you have experienced the same error as plenty of other players. According to Twinfinite, Nintendo has yet to explain what the message entails, but it likely refers to a server problem and congestion with everyone attempting to download the game at once. 
Unfortunately, all you can do right now is continue to retry downloading Fire Emblem Heroes again and again until the error goes away. Instead of trying again from the same screen, however, back out completely to the title screen or close and reopen the app. Sometimes this will result in a connection going through. Otherwise, wait a little while (up to an hour) and try again. You may be able to get through if the server load has lessened. 
More Fire Emblem Heroes tips, tricks and guides
If you're still struggling to figure out Fire Emblem Heroes, we're here to help. Check out our handy guide on how to get started if you're new to the series, along with explainers on using Heroes Feathers, changing nicknames in the game, boosting your characters with Unlock Potential, upgrading character star ratings and adding friends in Fire Emblem Heroes.