Colin Kaepernick's protest still shadows the Super Bowl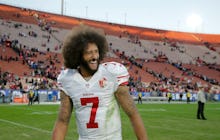 Four years ago, Colin Kaepernick took on the Baltimore Ravens in the Super Bowl. Now, he's facing an even bigger opponent: white supremacy in the United States.
Kaepernick became the most polarizing figure in American sports in 2016 when he refused to stand for the national anthem. At the time, protests against police brutality in black communities had reached fever pitch. Kaepernick, who had one of his most statistically productive seasons in years, committed one of capitalism's biggest taboos by staging a visible political protest in the middle of America's favorite multibillion-dollar pastime.
On the eve of another Super Bowl, any discussion of politics in sports has been ominously missing. The absence illuminates the irony of sports in America: The games that we love are always political. Kaepernick's decision to kneel during the national anthem forced viewers to see the song itself as a display of nationalism, defined during the 2016 NFL season by the political tenor of the time, embodied by Donald Trump. For all the grief's he's gotten over the course of the season, Kaepernick is proof that more people understand this reality than the game's leadership is willing to acknowledge.
Since news broke in August that Kaepernick was refusing to stand for the national anthem before NFL games, he's spoken repeatedly about his reasons. 
"I am not going to stand up to show pride in a flag for a country that oppresses black people and people of color," he told NFL reporter Steve Wyche, who broke the story after noticing Kaepernick on the bench during preseason games. "To me, this is bigger than football, and it would be selfish on my part to look the other way. There are bodies in the street and people getting paid leave and getting away with murder."
The story instantly became national news. 
"It forced a conversation about the issue of police violence, but also about the ways in which athletes and black athletes are asked to behave," said David Leonard, a professor and author of the book After Artest: The NBA and the Assault on Blackness.
Kaepernick the iconoclast
But that spotlight wasn't exactly new to Kaepernick. He came into the league after a decorated career at the University of Nevada where he set NCAA records for the most passing and rushing yards. After being drafted in the second round by the San Francisco 49ers in 2011, he became the team's starting quarterback in 2012, helping usher it to its first Super Bowl appearance in 18 years. The team would go on to lose to the Ravens in the game's closing seconds, but Kaepernick had established himself as a bonafide superstar.
It wasn't just what he did on the field that made Kaepernick different. He didn't fit the mold of a traditional NFL quarterback who, by and large, is known as, well, Tom Brady types: white, clean-cut men whose opinions about the world are best suited for the locker room.
Not only was Kaepernick black, but he sported beanies and a body filled with tattoos. Early on in his pro career, Sporting News columnist David Whitley wrote a racially charged screed about the dangers of a quarterback like Kap. 
"Approximately 98.7% of the inmates at California's state prison have tattoos," Whitley wrote. "I'm also pretty sure less than 1.3% of NFL quarterbacks have tattoos. There's a reason for that." 
In the controversy that followed, Kaepernick took to kissing his biceps after he scored a rushing touchdown, a way to show that he was proud of his tattoos. The move became known across social media as "Kaepernicking."
"Stereotypes, prejudice," Kaepernick said at the time. "Whatever you want to call it. I think between the tattoos, the way I dress, the way I talk. People don't think it should go together with a franchise quarterback or something that's leading the team or representing the organization."
Even in a league that is overwhelmingly black, Kaepernick's biography still didn't fit the mold. He was adopted by a white family in Wisconsin when he was five weeks old and grew up as the youngest son of a cheese company executive in California's Central Valley. He was an A student in high school and went on to major in business at Nevada. 
No stranger to prejudice
When he got the NFL, Kaepernick athleticism prompted an old, enduring stereotype associated with black athletes, especially quarterbacks: They're fast. They're strong. But they're just not very smart. One of the biggest criticisms of Kaepernick's game on the field is tinged with that racism. According to his critics, he can make plays with his legs, but he can't "read" defenses, and he's erratic and impatient in the pocket. 
It's a stereotype that's been around since the days of Reconstruction, of brutish black men who are prone to impulsivity, and it's one Kaepernick has long pushed back against. Early in 2015, when a Twitter troll lashed out at Kaepernick's ability to read defenses, he responded. 
"Are you illiterate or just ignorant?" he tweeted before challenging the fan to unpack the intricacies of the quarterback position. "Give me your breakdown of every defensive coverage. I want every players responsibility on every coverage. If you can't do it, mind your damn business clown!"
For all that Kaepernick has been criticized for saying this year, he was long known for what he didn't say publicly. At the peak of his success with the 49ers, he had an antagonistic relationship with reporters. He once gave an interview and said all of 87 words. At least some of that is understandable. He'd often been maligned by the media and opposing fans, who have taken him to task for everything from his clothes to his haircuts to his very personal decision to keep his birth mother at arm's length. 
A pivotal moment came in the summer of 2014, when TMZ reported that Kaepernick and two friends were being investigated by police in Miami for sexual assault. The men were never charged, and an investigation found several witnesses and surveillance video of the woman being rushed to the hospital in the midst of what appeared to be a psychotic break that Kaepernick appeared to witness. But the taint of the investigation, and false reporting by TMZ that Kaepernick had been shopping while news of the investigation was swirling, stuck to the quarterback. 
Kaepernick has since kept his circle incredibly small, limited to a few close friends and his longtime partner, Hot 97 host Nessa Diab. He leaned on them while he, and the rest of the country, were absorbing the spate of black people who'd wound up dead at the hands of police or vigilantes. 
Starting around December of 2015, his Instagram page slowly morphed into a sounding board for his beliefs. He posted memes calling for justice for Sandra Bland, the black woman in Texas who was arrested after a routine traffic stop and found dead in a jail cell days later. When Donald Trump proposed a Muslim ban after the San Bernardino terrorist attack, he posted a picture connecting the moment to Jim Crow and Japanese internment. "Racism and discrimination isn't OK we are all human beings! He wrote on Instagram. "Things need to change!"
Beyond protest
So he decided to put his money where his mouth was. For a year, he and his group of close friends sketched out ideas for how to use his resources to help combat police violence. He hadn't planned on his decision to sit out the national anthem to be a big deal. After all, the spotlight on him had dimmed since he was coming off of three surgeries and was the team's number two quarterback. But once news of his national anthem protest broke and other amateur and professional athletes followed suit, Kaepernick announced that he would donate $1 million to charity. 
"I've been very blessed to be in this position and to be able to make the kind of money I do," he told reporters. "And I have to help these people. I have to help these communities. It's not right that they're not put in a position to succeed or given those opportunities to succeed."
Kaepernick has made good on that promise. So far, he's donated hundreds of thousands of dollars to community groups across the country. And in an act of radical transparency, he's tracked his giving on his personal website. 
The part of Kaepernick's protest that didn't make as much news is his Know Your Rights Camps. Held so far in Oakland and Harlem, the camps bring together new and older activists that talk about how to survive and thrive as people of color in America. He pays for everything — the food, the event space, the T-shirts, personalized notebooks and pens — and leans on local activists to put together programs and workshops for the kids. 
At an event in Harlem recently, Kaepernick reflected on Malcolm X's legacy.
"Malcolm is someone that I look up to," Kaepernick said standing a few feet away from the spot where Malcolm X was assassinated. "I believe in what he was teaching, I believe in what he was doing. He's someone that inspired me to take the steps that I have in my life to get to this point."
Such overt political messages are not often heard around the NFL, which brings together a cross-section of America and earns $1 billion in revenue each year. 
"I think Colin Kaepernick's decision to sit down [during the anhem] challenged those expectations and challenged fans, coaches and teammates to reflect on their own decision-making," Leonard, the professor, said. "A decision to stand is just as political."
And the power of both will be evident on Super Bowl Sunday.