Lady Gaga's Super Bowl halftime show included "Telephone" — but not Beyoncé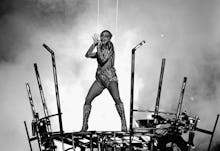 Lady Gaga's 2017 Super Bowl halftime performance had it all: a national anthem, drones, midair suspension of Gaga herself over Houston's NRG Stadium. What it didn't have was hometown hero Beyoncé.
There was plenty of speculation Bey would make a surprise appearance at this year's Super Bowl, especially after she showed up unannounced at last year's big game.
But there was also a separate hope: that Beyonce would re-create another politically charged moment on one of the country's biggest stages at a time when we sorely need it. 
But Gaga performed her hit "Telephone" without Beyoncé coming out on stage to sing her verse. The song is from Gaga's second album, "Fame Monster," and was one of the biggest tracks of 2010.
But, you know. Maybe Beyoncé's got better things to do.