Patriots' Super Bowl win reminds many of Trump's election night victory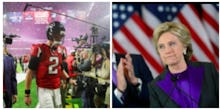 The story felt too familiar: a seemingly sure-fire win, followed by an improbable, historic loss. For plenty of people, Sunday night's New England Patriots win at the 51st Super Bowl over the Atlanta Falcons felt like Donald Trump's election night victory all over again.
The Falcons, from majority-black city Atlanta, were up against the Patriots, who rep Boston, seen as a majority-white city home to blue blood aristocrats and the white working class. The cities' sports histories could not be more different: Atlanta's professional baseball team, the Braves, won the World Series in 1995, but the city hasn't won any pro sports championships since then. Boston, on the other hand, is the epitome of Title Town: Its teams have won more than 30 pro sports championships in total, and the Patriots had won four Super Bowls since 2001.
Then there were the politics of the game itself. Patriots owner Robert Kraft, head coach Bill Belichick and starting quarterback Tom Brady have all been linked to Donald Trump. Meanwhile, Atlanta had earned the distinction of "the people's team" — the squad that so many people outside of Boston wanted to win.
And up until the fourth quarter of Sunday night's game, that win seemed likely. 
But then the Patriots, led by Brady, staged a historic comeback, forced the game into overtime and broke many people's hearts. 
Kinda like Hillary Clinton. Just look at all the people who made the connection on Twitter:
It's not over 'til it's over, and for Patriots and Trump haters, that's a tough pill to swallow.