10 perfect Valentine's Day date plans across America — for less than $100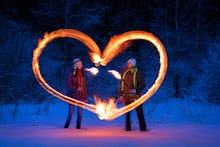 It's easy to drop ridiculous coin on Valentine's Day when you're trying to show that special someone how much you care — at the expense of your budget.
At least the peer pressure to overspend might be less intense this year: The National Retail Federation reports spending on V-Day is projected to be lower in 2017 versus 2016, as U.S. consumers are expected to each spend about $137: down from last year's record-high of about $147.
Yet given that a lot of Americans are in debt — whether from credit cards, student loans or mortgages — and even more of us simply wish we could save more money, dropping more than $100 on Valentine's Day might not actually be the greatest idea. After all, research shows splurging on a gift is actually unlikely to make the recipient enjoy the present more.
So skip the expensive chocolates or flowers and simply invest your cash in an experience — date night! — which studies suggest gets you more happiness bang for your buck.
How do you find a sub-$100 date night? Especially one that is romantic and outside-the-box, despite being cheap?
Since Valentine's Day falls on a Tuesday, the easy answer is to just cozily cook a meal at home together (great V-day recipe ideas here). 
But for more ambitious folks — who want to get out of the house — Mic has put together some creative, tailor-made date night plans across 10 major U.S. cities; each of these will set you back no more than $100.
1. Austin: Garden greens and an old-school drive-in flick
With a focus on sustainability and local flavor, restaurant Fabi and Rosi offers European flair with a modern twist: Many dishes are sourced from the restaurant's backyard garden and chicken coop and the owners place an emphasis on delivering fresh fare.
You can share an order of crispy oysters for $11 and order the schnitzel for two for around $40. If you want to add drinks, happy hour deals cut $2 off wine and beer and get you $5 starters and $8 boards.
After gazing into each other's eyes over dinner, head over to the Blue Starlite Mini-Urban Drive-In for a movie — from your Chevy. This drive-in shows classic romance films on Valentine's Day for as little as around $43 for a couple with an FM slot. The entire evening comes in just shy of $100.
Other ideas for dining in Austin? Try Sway for vegetarian and vegan options with flavors from Asia.
2. Boston: Bacon and free jazz
Dining at The Salty Pig in Boston's Back Bay and South End is a cozy, comforting gastronomical experience. You can split the Salty Pig pizza for $15 and the house burrata for $13. Cocktails, beer and wine are moderately priced.
Follow dinner with a free performance by some of Berklee College of Music's talented jazz musicians, the Jazz Alchemists: Head over to Oliver Colin Recital Hall for some jazz, funk and rock sounds.
Dinner at The Salty Pig and jazz can run you as little as $28 if you are really, really watching your budget.
If you want to go uber-romantic?
Eat something small at home, then head over to the Boston Tea Party Ships and Museum to experience a performance of Unfeigned Love: The Letters of John & Abigail Adams where the couple's love letters come to life.
The evening includes the performance, one glass of wine, beer, champagne, sparkling cider or tea and fruit and cheese for $59 per couple.
3. San Francisco: Tapas and roller skating
Graze on hot and cold tapas at Alegrias Restaurant in the Marina district, and stretch your dollar by skipping the Valentine's Day menu — ordering a la carte instead. Share assorted cheeses for $13.50 and Mejillones Alegrias (steamed mussels in white wine) for $12.00.
Pair with a glass of rosé for $9 each, and you have a complete meal for $43.50.
Next, head over for couples roller skating at Church of 8 Wheels for The Love Roll! Skate to tunes spun by San Francisco's "Godfather of Skate" until 10pm.
That'll cost up to $15 per person (includes admission and skates). The entire evening can end up setting you back only $74.
Feeling slightly enthusiastic and looking for a free activity in San Francisco?
Check out Pillow Fight 2017, held at 5:50 p.m. in Justin Herman Plaza.  Organizers suggest bringing a synthetic pillow to avoid feathers becoming airborne, as well as a bandana to cover your mouth (to avoid flying feathers).
4. Detroit: Fusion food and culture
Start your date in the heart of Detroit at the Detroit Institute of Arts to view priceless works of art and collections from African, Asian, Islamic and American artists. Admission is only $12.50 per person, and college students can get in for $7. Plus, admission is free with valid ID if you live in Michigan's Wayne, Oakland or Macomb counties.
Following that dose of culture, dine at the intimate but offbeat Public House in Ferndale, just outside of the heart of Detroit.
Sharon Jamo-Lavoisne, one of the owners of Public House, wrote to Mic in an email: "Public House goes for a fun and funky glam rock vibe for Valentine's Day. We will be spinning tons of Bowie, the New York Dolls, T. Rex and Roxy Music throughout the day on vinyl."
Take advantage of two food and one drink special on Valentine's Day, starting at 5 p.m. Go for the Ricotta agnolotti with grapefruit, braised parsnip, Prosecco beurre blanc, cutting celery, manchego and shiso for $12. 
For something sweet, check out the chocolate and beet root tart with whipped mascarpone, maple poached beets, milk crumb and a beet reduction for $6.
Another romantic activity to explore in Detroit is a special showing of Casablanca at the Detroit Symphony Orchestra. Tickets for the main floor are $35 a person; upper balcony seats are $40 per person. 
5. Denver: Burlesque and a brothel
Well, not quite.
If you dine at Ophelia's Electric Soapbox, you'll get cutting edge cuisine — housed inside a historic brothel.
But you can indeed combine your meal and entertainment under one roof, as Ophelia's presents Part and Parcel: Valentine's Night Edition — with a live rock and folk vibe — with no cover charge.
If you dine at Ophelia's, mix and match small plates with skillets and boards for a wide sampling of the 75%-organically sourced menu. Split the bean hummus board for $13 and then move on to the stout-teriyaki duck wings for $13.
Happy hour means $4 draft beer, $6 wine and $5 cocktails.
For another hot Valentine's Day activity, check out The Clocktower Cabaret. Tickets for Date Night Out with Naughty Pierre run around $30 per person.
Looking for something just as fun but a little less racy?
Lace up your ice skates and head to the Southwest Rink at Skyline Park for some skating. Admission is free and skate rentals are only $2.
6. Las Vegas: World tour
Whoever said you can't spread your love across the globe hasn't been to Vegas on Valentine's Day: You can "travel the world" for less than $50.
Start by strolling past the romantic Bellagio Fountains, complete with music and water — and it's free of charge. Next, check out Vegas' version of the Eiffel Tower where, for as little as $14.25 per person, you can take in sweeping views of the city lights.
Cap off the evening with a "gondola ride in Venice." Swing by the Venetian Hotel and be entertained by one of the hotel's famous singing gondoliers. This venture will only set you back $29 per person for a four-passenger gondola. Choose one or two activities and then pair it with a meal.
Continue your tour at the King and I for Thai cuisine: Order curry and more with a chicken, beef, tofu or pork entrée, at $9.95 — or a shrimp entrée at $11.95.
7. Atlanta: Italian and a murder mystery
A "fresh take on classic Italian fare" is how Villaggio Gastro Italian restaurant describes its cuisine, offering a full array of classics from the peninsula. Gluten free pasta options are available and dinner for two could be as little as $15.70 if you order the arugula salad and a Margherita pizza to share.
But don't let the carbs put you to sleep — you'll need skill and cunning to figure out the murder mystery at Act3's production of Agatha Christie's And Then There Were None. General admission is $18 per person.
If history is more your thing, pay a visit to The King Center: Admission and parking is free, as you dive into the deep rich life and legacy of Dr. Martin Luther King Jr.
8. Washington, D.C.: History and lobsters
With the endless museums and romantic historic monuments, how can you not find creative and inexpensive Valentine's Day fun in Washington?
Free activities include filling your sparkle quota by marveling at the gems housed at Smithsonian National Museum of Natural History or strolling by the Jefferson Memorial. View priceless works of art at the Smithsonian Portrait Gallery, free of charge.
If you opt for a free activity, you can spend a little more on dinner, such as the Valentine's Day special at Luke's Lobster. According to Georgetown Come Out and Play, Luke's has a Valentine's Day special where couples get two Luke's trios, two half lobster tails and two small chowders for $55.
Another option?
Eno Wine Bar's Temptation for Two: For $45 per couple, you can sample an array of decadent chocolates, wine pairings, charcuterie and various cheeses.  
9. New York City: That V-Day state of mind
Your Valentine's Day choices are endless in New York City — and, on a Tuesday night, you might not have to fight such huge crowds if you think outside the box.
Museum hopping is budget-friendly, and romantic: Explore the Museum of Modern Art or the Metropolitan Museum of Art. Adult tickets are listed at $25 a visit, but that's just a suggested donation — you can pay what you want.
Next you can take your adventure to Chinatown and indulge on dumplings at the iconic Nom Wah Tea Parlor: Fill up on pan-friend shrimp and chive dumplings for $4.50 and steamed spare ribs for $4.25.
Finally, if you are not too crowd-phobic, consider the classics, such as a trip to the top of the Empire State Building, as a nod to the iconic Valentine's Day movie, An Affair to Remember (or Sleepless in Seattle). Main deck standard passes are $34 per person.
10. Miami: Sand, art and empanadas
Hitting the beach on Valentine's Day in Miami is a fan favorite whether you are a Floridian or visitor. From flashy South Beach to the exclusive beaches of sleepy Key Biscayne, you are bound to find a patch of sand where you can lay and blue water for play.
Beyond the beach, check out urban art in Wynwood, in the heart of Miami's design district. Explore the gardens and open air spaces — free of charge.
If you opt for a free activity, you can splurge on the meal: Smack dab on the ocean, Crazy About You features entrées starting at about $20. Dinner for two could run as little as $40 before tax, tip and drinks.
Or, if you stay in Wynwood, you might check out Bunbury's flavorful Argentinian fare.
Empanadas will run you about $4 a pop and picadas are $7 or $8.
Sign up for The Payoff — your weekly crash course on how to live your best financial life. Additionally, for all your burning money questions, check out Mic's credit, savings, career, investing and health care hubs for more information — that pays off.