The Bowling Green massacre did happen — in 1643, white settlers slaughtered 110 natives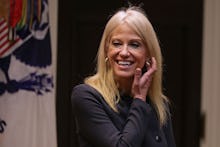 President Donald Trump's top adviser, Kellyanne Conway, did invent a massacre that never happened in Bowling Green, Kentucky, when she appeared on MSNBC. But here's one that's real: In 1643, white settlers massacred 30 indigenous people in what is now Bowling Green Park, one of the oldest sections of New York City, Indian Country Media Network reported.
Back then, New York City was known as New Amsterdam and was a struggling colonial outpost under Dutch rule. As Theresa Braine of Indian Country Today recounted, the then-governor of New Netherlands, Willem Kieft, sent groups of European soldiers to an area at the tip of Manhattan island, which was then home to Lenape tribe. The soldiers killed 80 members of the tribe in what is now Pavonia, New Jersey, and massacred another 30 in Manhattan.
Here's how one witness described the horror:
"Infants were torn from their mother's breast and hacked to death in the presence of their parents, and the pieces thrown into the fire and in the water. Other sucklings, being bound to small boards, were cut, stuck and pierced, and miserably massacred in a manner to move a heart of stone. Some were thrown into the river, and when the fathers and mothers endeavored to save them the soldiers would not let them come on land but made both parents and children drown."
Children were snatched from their parents and thrown into the nearby river:
After it was all said and done, the European soldiers reportedly used the severed heads of their victims as soccer balls, Gothamist reported.
So we can all make fun of Conway for the massacre that didn't happen, but rest assured that the United States still has plenty of blood on its hands.