Congressman defends Trump's silence on white extremism, says mosque shooting a "one-off"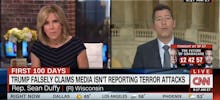 Although he was quick to condemn an attack near France's Louvre museum as an example of "radical Islamic terrorism," President Donald Trump has yet to acknowledge the mass shooting at a mosque in Quebec City that happened just days before. U.S. Rep. Sean Duffy, a Republican of Wisconsin, does not know why this is. 
But in an interview with CNN's Alisyn Camerota, he inadvertently suggested an answer: Islamophobia, coupled with some white supremacy.
"Why isn't the president talking about the white terrorist who mowed down six Muslims who were praying at their mosque?" Camerota asked. 
"I don't know, but I would just tell you there's a difference," Duffy replied. Conflating the Islamic State with all of Islam, Duffy argued that there have been "dozens of scenarios where ISIS-inspired attacks have taken innocents," whereas the attack by a white man on the Quebec City Islamic Center was a "one-off." 
It was also the work of pro-Trump, anti-immigration shooter Alexandre Bissonnette, whose classmates described him as an "ultra-nationalist white supremacist" and who became very involved with the far right online. 
In defining terror attacks, the White House recently omitted those committed by white supremacists. But that doesn't mean that violent white extremists don't exist, and it doesn't mean that white people don't commit broad-scale violent crimes. Statistically, mass shooters tend to be male and white, if not necessarily extremists, and very rarely motivated by "radical Islam." 
There are plenty of examples of racially motivated terrorism from the far right, though: There's the 65-year-old white man who attempted to coordinate the bombing of a New York mosque in 2015. There are the right-wing extremists forming militias and arming themselves for a violent struggle against Muslims. There's the anti-Semitic white supremacist who, in 2014, shot up a Jewish community center in Kansas and killed three. 
There's also the neo-Nazi gunman who, in 2012, killed six people worshipping at a Sikh temple in Milwaukee, Wisconsin. One might think that Duffy would remember the incident, seeing as it happened in his own state fewer than four years ago, but one would apparently be wrong. 
And then, there's Dylann Roof, the 22-year-old who was recently sentenced to death for opening fire on worshipers at the Emanuel African Methodist Episcopal Church in Charleston, South Carolina in 2015. He killed nine people, and he did it "because he felt like he had to do it," Roof said at trial. Because he was completely convinced that black people represented a threat to white people.
After Camerota drew a parallel between the Quebec City shooting and the Charleston shooting, Duffy painted the latter as a vehicle for positive change — the confederate battle flag was removed from South Carolina's state house, he said. Ultimately, Duffy concluded that "there's no constant thread that goes through these attacks." 
There is. It's white extremism. So glad we've cleared that up.
Feb. 7, 2017, 3:21 p.m.: This story has been updated.