How much is an Academy Award really worth? Here's the value of an Oscar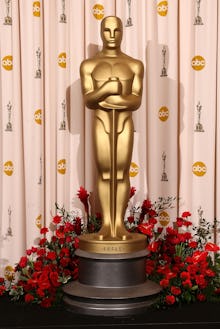 Every actor dreams of winning an Oscar. After all, along with the prestige and the plum choice of future roles, the golden statuette comes with a lot more money.
How much is an Oscar actually worth? To answer that, you need to look at two separate numbers: the value of the statuette itself and how much it helps winners boost their earnings after they bring one home.
The statuette is worth less than you probably think
Standing a mere 13 1/2 inches tall and weighing only 8 1/2 pounds, this little guy is the envy of everyone in Tinseltown. Plated in 24-karat gold, the Oscar is made of solid bronze, according to Oscars.org.
With all the hubbub surrounding the award, you would think the statuette must cost a pretty penny to make, but it doesn't. CBS estimated the price at $400 in 2011, while the Los Angeles Times put the price tag at $500 in 2009. In contrast, a Golden Globe is worth about $800 and an Emmy was worth an estimated $400 in 2009. (The exact cost of the statues fluctuates based on metal prices.)
But secondhand Oscars are another story
Of course an Oscar is worth much more than the metals that go into it. 
In the past, stars could make serious bank if they sold their Oscar to the highest bidder. Herman Mankiewicz, who won the Oscar in 1941 for best screenplay for the iconic film Citizen Kane, made $332,165 from the sale, according to MoneyNation. Gregg Toland, who won the Oscar in 1939 for best cinematographer, later sold his statuette for $226,876.
All that changed in 1950, when the academy effectively prohibited the sale of awards for money. Now winners must sign an agreement on awards night stating that if they want to sell, they must first offer it to the Academy for $1, according to Vanity Fair. 
Golden Globe winners, on the other hand, are free to sell their prize and make between $100,000 and $120,000, MoneyNation reported.
Oscars awarded before 1950 can still be sold for a bundle, though. In 1999, Michael Jackson spent a record $1,542,500 for producer David O. Selznick's award for the 1939 film Gone With the Wind, Vanity Fair reported.
The Oscar bump is smaller in some cases — and bigger in others — than you might think
Winning an Oscar can be more profitable for actors than for movie studios. 
A 2013 analysis published by Reuters found that an Academy Award win translated into a box office increase of just $3 million on average for films in the prior 12 years. When you consider the millions of dollars studios spend to promote nominated films, that can translate into a net loss.
Actors on the other hand, usually get a flat pay, rather than a cut of the profits. And that pay often goes way up after they take home an Oscar.
When Halle Berry won an Academy Award in 2002 for her role in Monster's Ball, for example, her estimated average earnings per role went from $118,750 to $6,500,000, according to MoneyNation. That's more than 50 times what she made per role before the win.
While winning an Oscar typically increases an actor's pay and prestige, sometimes the opposite occurs. After Marisa Tomei won best supporting actress for My Cousin Vinny in 1993, for example, her career actually stalled. 
Why an Oscar is worth more than an Emmy
Compared to winning an Emmy, an Oscar is much more valuable come pay day. That's because most Emmys are for TV shows, and those contracts span years, the New York Daily News reported in 2013. If you win an Emmy in the second year of a five-year contract, for example, there's not much room to renegotiate your pay.
"Hollywood's gatekeepers regard an Emmy — or even a nomination — as a seal of approval more than anything else," the Daily News noted.
While an Emmy may not make winners much richer, recipients seem to have more fun with their trophy. After all, no Oscar winner can tout that their award is engraved with the iconic phrase "dick in a box," as former Saturday Night Live cast member Andy Samberg revealed to Marc Maron during a 2014 podcast.
That alone just might be priceless.
Sign up for The Payoff — your weekly crash course on how to live your best financial life. Additionally, for all your burning money questions, check out Mic's credit, savings, career, investing and health care hubs for more information — that pays off.