Comedian George Lopez went on an anti-black, sexist tirade and Twitter is pissed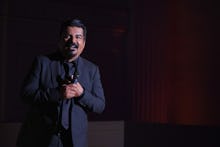 Comedian George Lopez may have taken his jokes too far.
During a show at the Celebrity Theater in Phoenix, the Mexican-American funny man joked that there are only two rules in Chicano families: "Don't marry somebody black, and don't park in front of our house."
When an unidentified woman in the audience stood up to challenge Lopez, the comedian lost it. "Sit your fucking ass down. I'm talking bitch. Sit your fucking ass down," he said. "You paid to see a show. Sit your ass down. You can't take a joke, you're in the wrong motherfucking place."
While plenty of Lopez's defenders tweeted in defense of the comic, lots of others are calling him out, saying that this time he took it too far:
Others are saying that Lopez's tirade actually speaks to a deep strain of anti-blackness in Latinx communities:
Lopez has always been unapologetic about his comedy, and has even been criticized in the past for doling out anti-black jokes. But on Wednesday morning, he seemingly defended himself on Instagram by posting a clip of a heckler getting smashed over the head with a guitar.
"This happens when you try to become part of the show," the caption reads.