Activists win access to NYPD's Black Lives Matter surveillance files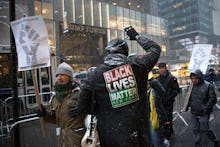 A New York judge has ordered the New York Police Department to divulge files showing how it surveilled Black Lives Matter demonstrations two years ago, a group of activists announced Wednesday.
According to a written decision by Judge Manuel Mendez, the NYPD must release records of the undercover surveillance it conducted on BLM protests related to the police-involved death of Eric Garner. The activists, whose initial request seeking the records was denied by the NYPD, learned through court documents in September that officials have files that match their request, as well as records of communication between the undercover officers assigned to the demonstrations and officers' handlers.
"[NYPD officials] fail to show that redacting the relevant information ... would not provide sufficient protection for NYPD undercover officers, their techniques and records," Mendez wrote in the decision dated Feb. 7.
An NYPD spokesperson did not immediately respond to a request for comment.
On Wednesday, activists cheered their victory on social media.
"We are pleased that Justice Mendez rejected the NYPD's arguments that government transparency makes the public unsafe," M.J. Williams, one of the records petitioners, said in a statement. "The public is entitled to understand how and why the NYPD dedicates enormous resources to surveil not only activists but New Yorkers living out their daily lives."
In May 2016, the activists filed a lawsuit over the NYPD's denial of the request, in which they sought images, videos, audio recordings and metadata related to the surveillance of protesters at demonstrations between November 2014 and January 2015. Weeks of marches, rallies and "die-ins" under the Black Lives Matter protest movement followed the December 2014 non-indictment of Officer Daniel Panteleo, who held Garner in a fatal chokehold maneuver during an arrest attempt in Staten Island in July of that year.
The activists asserted that NYPD surveillance could be a violation of protesters' First Amendment free speech rights, insisting they sought the records to learn the extent of police monitoring. The judge's ruling may serve as a example to other activists and organizers seeking similar records in their states, Keegan Stephan, another one of the petitioners, said in a phone interview Wednesday.
"New York is a precedent setter across the country, in all respects, but especially for police," Stephan said. "In this case, signaling that the police need to be transparent will hopefully have ramifications across the country."