5 notable facts about Jeff Sessions, Trump's pick for attorney general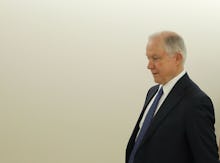 Jefferson Beauregard "Jeff" Sessions III is expected to be confirmed as U.S. attorney general by the Senate on Wednesday evening. As with President Donald Trump's other cabinet nominees, Sessions's confirmation has been rocky, and it's not unlikely that, as with Secretary of Education Betsy DeVos, Sessions's confirmation will require a tie-breaking vote by Vice President Mike Pence. Here are five interesting, if unsurprising, facts about Jeff Sessions.
Climate Change
He's a climate change skeptic. While Sessions hasn't gone so far as to call global warming a hoax invented by the Chinese, as Trump tweeted in 2012—he even went so far as to call the theory of global warming "plausible"—he has questioned climate science and called for looser regulations on greenhouse gasses. The League of Conservation Voters, which rates elected officials based on their votes on environmental legislation, gave Sessions a lifetime rating of 7% and opposed his nomination for attorney general. "Senator Sessions publicly denies the overwhelming scientific evidence that climate change is real and caused by human activity," LCV president Gene Karpinski said in a statement in January.
Popularity
He's very popular in his home state of Alabama. He's been a senator for more than two decades, first taking office in 1997, and, according to The Washington Post, he's never won an election with less than 59% of the vote.
Racism Allegations
He's been called a racist more than once. According to The Huffington Post, In 1986, the Reagan administration nominated Sessions, then a U.S. attorney, for a federal judgeship. However, J. Gerald Hebert, who had worked alongside Sessions when Hebert was part of the Department of Justice's Civil Rights Division, raised questions about Sessions's views on race. According to Hebert, Sessions suggested that a white civil rights attorney in Mobile was "probably" a traitor to his race. Thomas Figures, a former assistant U.S. attorney, also testified that Sessions called the NAACP and other groups "un-American" and said they taught "un-American values." Hebert also testified that Sessions called the NAACP "Communist-inspired." Thomas Figures, Sessions's former assistant and a black man, testified that Sessions called him "boy" on multiple occasions.
Amnesty's Worst Enemy
He's to the right of most of his party on immigration. The National Review called Sessions "amnesty's worst enemy" because of his opposition to any and all legislation that would give undocumented immigrants a path to citizenship. Sessions has also opposed some forms of legal immigration. He voted against a bill that would have given guest workers a path to citizenship. And he voted for a bill to make English the official language of the U.S. government and another to make government services in English only. He also praised the Johnson-Reed Act, a 1924 law that outright barred immigrants from Asia. Finally, Sessions suggested immigrants serving in the armed forces are more likely to be spies than native-born service members.
Legal Weed
He's no fan of marijuana. Sessions has said, "Good people don't smoke marijuana" and that he thought the KKK was "OK until I found out they smoke pot." And as attorney general, he will have wide-ranging authority to nip America's booming legal weed business