Is Trump's immigration ban his most popular executive order?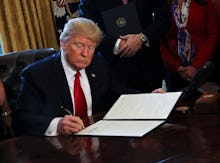 A majority of Americans back President Donald Trump's executive order banning refugees and immigrants from seven majority-Muslim countries, according to a new poll released Wednesday.
Slightly more than half of Americans — 55% — approve of the ban, making it the president's most popular action of his presidency to date. The poll, conducted by Morning Consult and Politico, looked at 11 executive orders signed by Trump. Of those, two more — one revoking funding for so-called "sanctuary cities," and one freezing all new federal regulations — also polled above 50%.
Trump is still unpopular
The president's personal approval rating continues to slide, however, and more Americans approve of Trump's travel ban than of Trump himself. According to Morning Consult:
After two weeks in office, 47% of voters approved of his job performance, down 2 points from the previous week. At the same time, his disapproval rating rose 5 points, to 46% from 41%.
When it was announced last month, Trump's travel ban drew criticism from Democrats and some Republicans and sparked protests in cities across the United States. "Ultimately, we fear this executive order will become a self-inflicted wound in the fight against terrorism," Sens. Lindsey Graham and John McCain, both previous critics of Trump's, said in a statement on Jan. 29.
Despite its popularity, the ban has drawn "nearly two dozen" lawsuits, Politico reports. The highest-profile of those suits went before a federal district judge in Seattle, who issued a stay on the order on Friday. Now, a three-judge panel from the Ninth Circuit Court of Appeals in San Francisco must consider whether to let the stay stand or to reverse it. On Twitter, Trump has expressed his frustration with the courts.